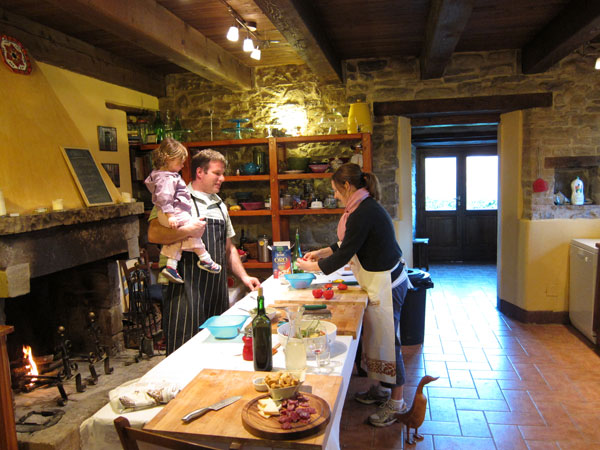 Raising three kids under three in Italy
Can you imagine packing up your family and moving abroad? The thought may very well give you a slight panic attack or it may induce a little spark of curiosity -- either way, our new series, Families Around the World, will give you a sneak-peek at American families who are living abroad -- from far off exotic places such as Abu Dhabi in the Middle East to the bustling metropolis of Rome and everywhere in between -- stay tuned for a look at what life is like raising a family away from home.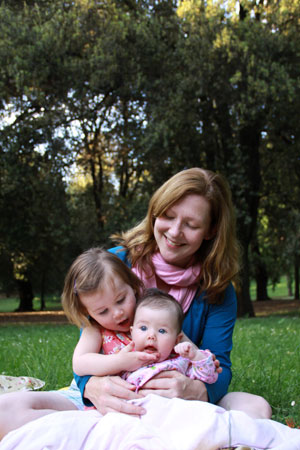 Meet the Mathews Family
From New York to Rome -- can you even imagine? Charity Curley Mathews and her husband, Paul Mathews, left New York for Rome over three-and-a-half years ago. At the time, they were newly married, pregnant with their first child and both beginning new careers in Italy -- Charity as a media consultant and freelance writer (leaving behind her position as a vice-president of MarthaStewart.com) and Paul as a UN employee in Rome, working with the Food and Agriculture Organization, the job that took them abroad in the first place.
Now, the Mathews Family includes Phoebe, age two-and-a-half, and Estelle, age one, both of whom were born in Rome and know it as their only home.
Daily life in Rome
If you aren't already feeling pangs of jealousy about the Mathews family's life in Italy, you're about to as Charity describes the best part of their day. Every morning, they walk as a family to the bar down the street to enjoy a cappuccino together before parting ways to work and nursery school. Charity says, "We're oddities, [making us] minor celebrities, because we're American, have more than one child and a huge stroller, so everyone knows us and talks to us." Their standing order -- a cappuccino, a cafe latte and a steamed milk served in an espresso shot glass for Phoebe -- are made as soon as they roll their double stroller in the door.
Both girls attend nursery school every morning, where they are the only Americans. Charity loves that they are fully immersed in Italian culture while at school -- speaking only Italian, playing with Italian children and eating a traditional three-course meal for lunch that always includes a meat, pasta and vegetable.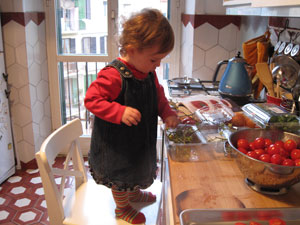 The afternoons and evenings are full of cooking together as a family (Charity launched Foodlets while in Rome, a successful and delicious kid-friendly foodie blog), getting the kids to bed at a reasonable time and trying to catch up with each other -- not a far cry from what their life would be like in New York, with one major exception: they're all home to enjoy it.
The biggest difference in the Mathews' life in Rome is that they have a family-focused work schedule. Charity works in the mornings from home while the girls are at school and Paul is home by dinnertime. Plus, as Charity describes, their lifestyle in Italy not only allows them to do things with their children, but for their children as well -- spending leisurely weekends traveling outside of the city to enjoy long lunches together or just enjoying the gorgeousness of Rome.
Two kids, under the age of three... and a baby on the way
"There is a steep learning curve when it comes to raising young children in a foreign country."
However, living in Rome with two children under the age of three, plus another baby on the way, life isn't all cappuccinos and amazing meals. And while some of the stresses of raising children in America don't apply to raising children in Rome, at times, there is a steep learning curve when it comes to raising young children in a foreign country.
Charity has some very entertaining experiences when it comes to being pregnant in Rome... including trying to find out the gender of their third child. "We had a round of Who's on First," Charity says, with an ultrasound technician who spoke very limited English (it's a boy, by the way!).
As a mother, Charity believes that she's more patient living in Rome than she would be if they had stayed in New York. She says, "I still have plenty of tear-my-hair-out moments, but fewer than I thought [I would]."
Only in Rome
What is that cute little saying? When in Rome? Here are some fun and interesting facts from Charity about life in Italy.
More on travel with kids
Tips to make traveling with children easier
Tips for traveling alone with the kids
How vacations make kids smarter