Jessica Simpson Girls Collection by Jessica and Ashlee Simpson
Launched in late Fall 2011 by mom-to-be Jessica Simpson and her sister, Ashlee Simpson (mom to son Bronx, age three), the Jessica Simpson Girls Collection is designed for the pre-teen crowd, with Ashlee leading the way as creative director of the brand. In addition, Jessica Simpson already has a successful line of shoes for girls -- sold at many retailers nationwide and online.
The Jessica Simpson Girls Collection is still gaining momentum (rumors of a possible baby and maternity line have certainly helped!), but the clothes are certainly cute, age-appropriate and well-made.
Little Maven by Tori Spelling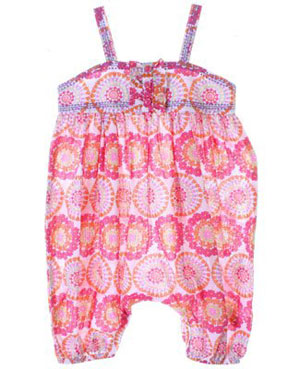 Currently in transition due to the their distributor going out of business, Little Maven, the children's clothing line by Tori Spelling, was launched in late 2009 to rave reviews. The colors, patterns and cuts of Tori's line for the littlest of tots were spot-on, combining a little bit of classic design, a little bit of beachy Los Angeles casual and a hint of vintage softness sprinkled on top. Previously sold at big name luxury retailers such as Bloomingdale's and Neiman Marcus, currently you can only find Little Maven at specialty boutiques.
The easiest way to reach the entire stock of Little Maven is to search Amazon.com, which pulls many of these sources together. Fingers crossed that Tori and her team get Little Maven in production again soon!
Harajuku Mini Collection by Gwen Stefani
We've all heard the buzz lately about big name designers launching lines for Target. Megastar and mom of two Gwen Stefani debuted her Harajuku Mini Collection at the popular retailer in early 2012. This line didn't cause crazy crowds of eBay and fashion obsessed women to rush the doors of Target and shutdown Target.com like Missoni did in 2011, but the designs have been flying off the racks at stores, which isn't a surprise considering the collection is eye-catching, bright and fun.
The Harajuku Mini Collection is inspired by Japanese pop-culture, punk-rock and of course, Gwen Stefani's original line, Harajuku Lovers.
Tell Us
What other fashionable celebrity moms would you love to see jump into the world of children's clothing? There are rumors that both Victoria Beckham and Rachel Zoe are working on their own lines. What about pregnant celebrity mom Kourtney Kardashian or new mom, Beyonce?
More on celebrity moms
Celebrity moms: Cindy Crawford
Most fashionable celebrity moms of 2011
Celebrity moms who breastfeed in public