Valentine's Day Crafts For The Whole Family
Don't buy into the commercialization of Valentine's Day with costly chocolates and over-priced roses. This year, give gifts from the heart — and help your kids do the same — with these cute and love-filled Valentine's Day crafts for kids (and adults!).
Clay [he]art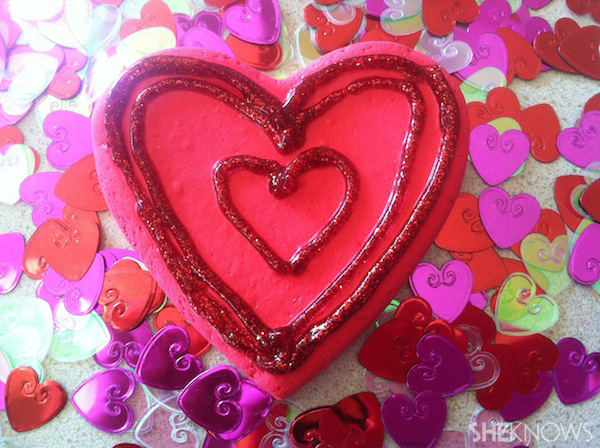 What you'll need:
salt dough (or air-drying modeling clay for a short-cut version)
acrylic paints
glitter
puff paint
acrylic sealer
What you'll do:
Roll out dough, then help your children cut dough into small heart shapes or cute animal shapes using hearts for ears or wings.
Let the kids paint and decorate them to their hearts' content, then spray with sealer.
Bake at 250 degrees F for about two hours and allow to completely dry. You can glue pins or magnets on the back or simply give them as keepsake mementos.
For an adult version, use a pattern to make a large heart that can be used as a hot plate or serving platter.
Make your own salt dough with this easy recipe >>
Love-y pillows and sachets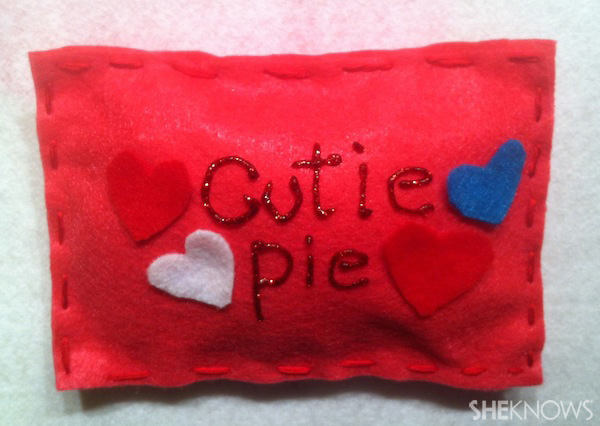 What you'll need:
felt
fabric paint
beads
buttons
googly eyes
felt glue
craft cord
needle
cotton batting
What you'll do:
Cut out a heart shape — any size your child chooses, or any shape for that matter — from a piece of felt folded over, so you end up with two matching pieces.
Let your child decorate one side of the felt using fabric paint, beads, buttons, googly eyes, smaller heart shapes cut from felt, whatever!
Thread the two pieces of felt together with craft cord, leaving a small opening. Fill the pillow with cotton batting, then finishing stitching it up.
For an adult sachet, use the same instructions with a few modifications. Make the hearts smaller, and replace the felt with a thin fabric that won't fray. Decorate the sachets with sequins, glass beads or Swarovski crystals, and instead of filling the hearts will cotton batting, fill them with scented aroma beads.
Button art
What you'll need:
wooden shapes or words
buttons
glue
What you'll do:
Let your child choose a wooden shape or word from the craft store.
Help her glue buttons, rhinestones or sequins to the shape or word.
Allow to dry, then display the wooden art for all to enjoy!
Corky idea
If you and your loved ones are wine drinkers, put those old corks to use by hot gluing them to a large single wooden letter (such as the first letter of your last name) or a smaller wood word such as "love" or "lucky."
More Valentine's Day
Valentine's Day crafts for kids
Fabulous homemade valentines crafts
Valentine's Day activities