Valentine's Day
DIY Cards
Whether for your kid's classroom Valentine's Day card exchange or a sweet memento for your one and only, spread some love this year with these fun and easy DIY Valentine's Day card ideas.
Let it shine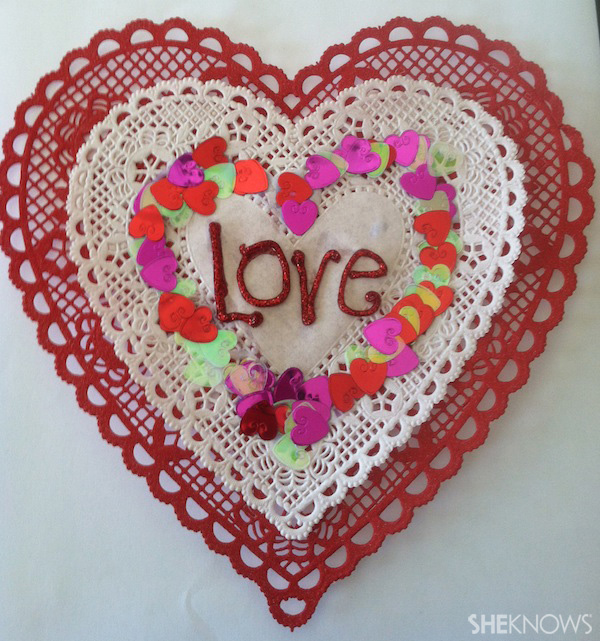 What you'll need:
heart-shaped doilies (various sizes and colors)
glue
sequins
metallic confetti
glitter glue
other embellishments
What you'll do:
Glue the doilies together, layering smaller ones on top of larger ones
Decorate with sequins, metallic confetti, glitter glue or colored rhinestones
For an adult version, glue Swarovski crystals into a single word or short phrase (a la conversation hearts).
Love pops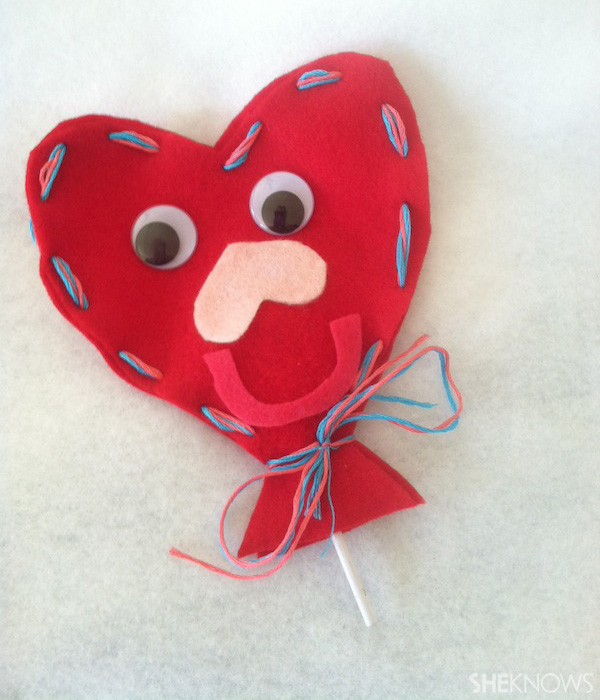 What you'll need:
felt
felt glue
googly eyes
scissors
craft cord
lollipops
What you'll do:
Assist your child in cutting out matching heart shapes — about two to three inches tall — from colored felt — instead of the having the heart meet in a V at the bottom, create a little fan of fabric.
Make a face on half of the felt hearts using googly eyes, and nose and mouth cut from extra felt pieces.
Once dry, match up a decorated heart with a plain one. Place a lollipop between the two felt pieces and thread the craft cord through the hearts so the ends meet at the bottom with a few inches left on each side to tie a bow.
For an adult version, bag the sucker and slip a special gift, like cufflinks, inside.
Puff heart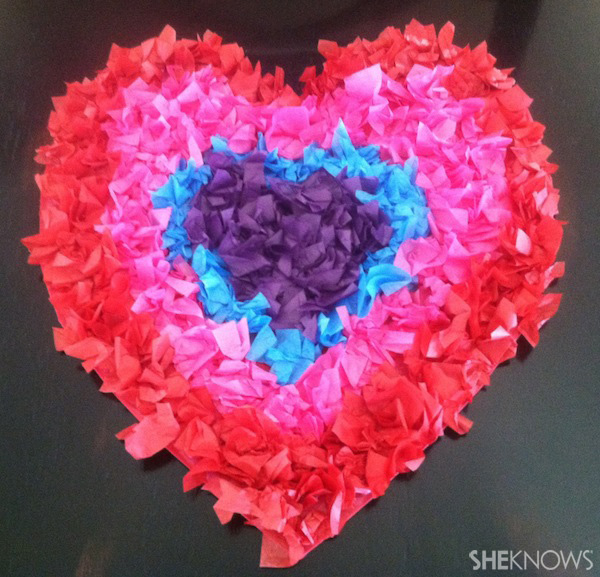 What you'll need:
card stock or foam sheet
marker
pre-cut tissue paper squares in various colors
glue
scissors
thread or ribbon
What you'll do:
Cut a large heart out of the card stock or foam paper and write a message on one side.
Scrunch the tissue paper squares and glue to the blank side of the heart. Repeat until the entire heart is covered with tissue paper. If you are really crafty, make a pattern or spell a word with one color tissue paper, then surround it with other colors.
For a hanging card, punch two holes in the top of the heart to thread string or ribbon through.
Chain of love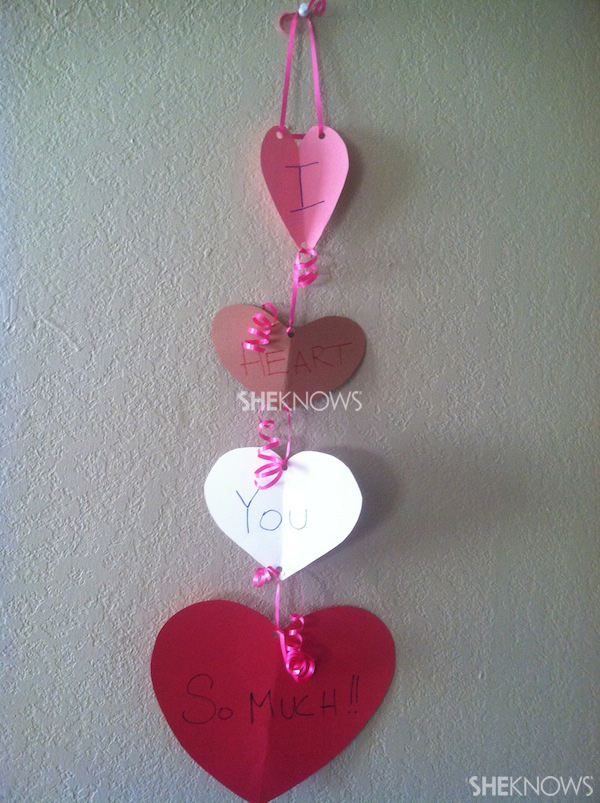 What you'll need:
construction paper or card stock in various colors
hole punch
ribbon
markers or crayons
What you'll do:
Help your child cut heart shapes — small, medium and large — out of construction paper or card stock in his favorite colors (you don't have to limit him to red, pink and white).
Punch holes in the top and bottom of each heart except for the last heart, which will only need a hole punched in the top.
"Chain" together the hearts with ribbon. Add a longer ribbon to the top heart.
Write a heartfelt message or let your child color a picture on each heart and you have a card that doubles as V-Day decoration!
More Valentine's Day activities
Valentine's Day crafts for kids and adults
Valentine's Day traditions to start with your children
7 Valentine's Day activities for kids