How To Create Valentine's Day Crafts
If your kids are having a Valentine's Day party with their friends, set aside some time during the party to create some special Valentine's Day crafts. Check out these fun craft ideas for your little ones and their pals.
"Stained glass" hearts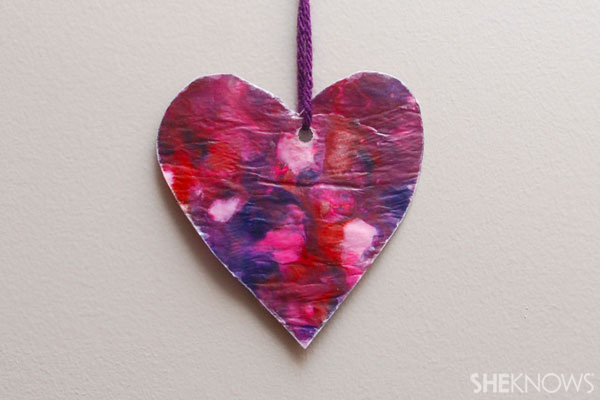 Kids of all ages can make these "stained glass" hearts to hang in the window. Young kids will need an adult to do the ironing to seal the hearts together. This is a cool craft to do at a kids' Valentine's Day party or just as an afternoon craft with your own children.
Supplies:

Wax paper
Crayon shavings (adult should shave crayons with scissors)
Scissors
Iron
Yarn
Directions:

Each child should cut 2 identical hearts out of wax paper.
Sprinkle a light layer of various colors of crayon shavings on one of the hearts. Cover the shavings with the second heart.
Place a paper towel on the top of the heart to protect your iron. An adult will then seal the wax paper together with the iron on low heat.
Punch a hole near the top of each heart and string yarn through the hole for hanging. The "stained glass" hearts can be hung in the window.
Heart wreath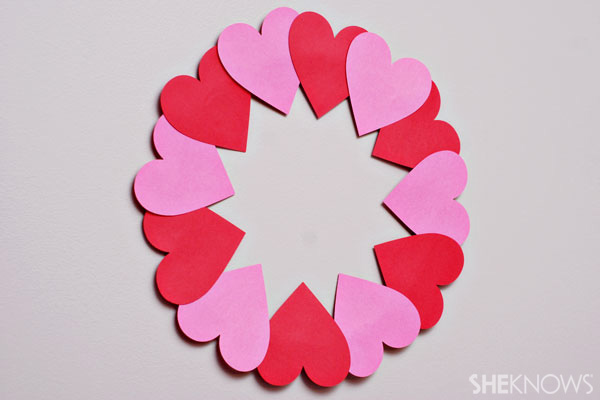 Christmas isn't the only holiday for wreaths. If you want an easy craft for kids to make at a Valentine's Day party, this heart wreath is just perfect. With construction paper and just a few other supplies, kids can make these Valentine's Day heart wreaths.
Supplies:
Paper plate
Poster board
Pencil
Scissors
Construction paper
Markers
Glue stick
Directions:
Trace around the paper plate with the pencil onto the poster board. Then draw another circle about 1-1/2 inches inside the first one. Cut out both circles to create the wreath base.
Make a heart pattern out of the scraps from the poster board. Use the pattern to make enough pink and red hearts to go all the way around the wreath (approximately 12).
Write messages on each heart (like you would find on conversation candy hearts). Arrange the hearts on the top of the wreath base and use the glue stick to attach them.
Folded heart Valentine's Day mouse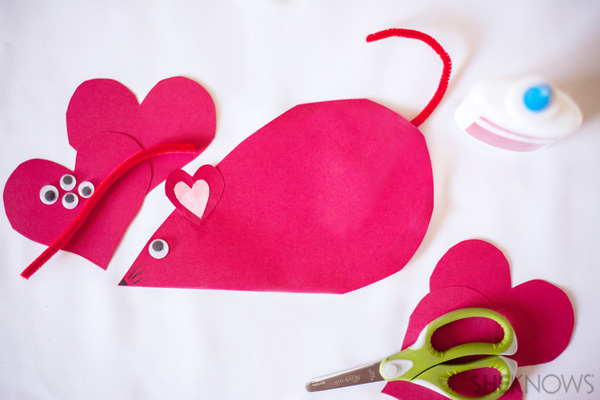 Whether you keep as a decoration or give as a sweet Valentine's Day tiding, your child will adore crafting a heart-shaped mouse!
Supplies:
Red card stock paper
Pink card stock or construction paper
Scissors
Red pipe cleaner
White glue
Wiggle eye
Black marker
Directions:
First, fold your red card stock in half. Starting at the folded line and cutting towards the open side, help your youngster cut out a half of a heart shape that will open up to a full-sized heart. There's no right or wrong size when it comes to this craft for kids, so long as it makes a general heart shape.
Using the scraps from the red card stock paper, cut out a smaller heart using the same technique to form the ear for the Valentine's Day craft mouse. Repeat with pink card stock, creating a slightly smaller heart to fit inside the small heart and glue the 2 hearts together.
Next, fold the large heart in half again and adhere a half of a length of red pipe cleaner to the inside of the heart to form a tail. At this point you'll also want to glue the heart shape in half permanently.
Now, glue the heart ear and a wiggle eye to the pointy side of the half-heart shape.
Finally, use the black marker to draw on a little mouse nose and whiskers to the pointy side of the half-heart shape and your Valentine's Day craft for kids is ready for love!
Salt dough conversation hearts
Keep them year after year or give them as gifts — your kids will love making these salt dough conversation hearts adorned with their favorite sweetheart candy sayings.
Supplies:
1 cup flour (plus extra for dusting)
1/2 cup water
1/2 cup salt
Food coloring
Rolling pin
Cookie sheet
Cookie cutter
Red marker
Directions:
First, preheat oven to 250 degrees F.
Mix flour, salt and water together in a bowl until dough is formed.
Separate dough into enough portions for the number of colors you wish to use and knead a few drops of food coloring into each portion until your dough is the color of the conversation heart candy of your choosing.
Working with one color of dough at a time, roll the dough on a floured surface with a floured rolling pin to about 1/4-inch thickness and use the cookie cutter to cut out heart shapes.
Repeat with each color separately.
Carefully place the hearts onto an ungreased cookie sheet and bake in the oven for 1-1/2 to 2 hours. You want your salt dough to be hard, but not burnt. Also keep in mind that they harden as they cool, even if they come out slightly puffy from the oven.
Once cooled, use a red marker to write your favorite conversation heart phrases onto your baked salt dough shapes. You can display them on your favorite Valentine's Day plate or in a bowl year after year — or let your youngsters give them as gifts.
Note: Since this craft takes 2 hours to bake, for parties that do not have the luxury of time, you may consider baking the hearts ahead of time and letting kids decorate them at your V-day bash.
More Valentine's Day for kids
Valentine's Day party favors for kids
Valentine's Day party recipes for kids
Valentine's Day party games for kids