Forget about the Valentine's Day gifts this year and make this sweet holiday special with these thoughtful ways to celebrate.
Roses are red, violets are blue...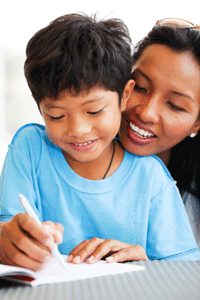 When was the last time you wrote a poem? There's something about Valentine's Day and poems that go so well together... and there's something about rhyming and kids as well, so this Valentine's idea is a match made in gift-free heaven. Channel your inner Dr. Seuss and get creative this year with a sweet gift for your kids to give — and receive.
Have fun creating Valentine's Day poems for each other and for other people in your lives including grandparents, cousins and teachers, and be sure to make it age-appropriate. Older children, who already get the concept of poems and rhyming, can easily create their own. If they need help getting started, teach them the good old Valentine's stand-by poem, Roses are Red, and let them take it from there.
For younger children, help them create a poem that expresses how they feel about the ones they love. Make a Mad Libs-style template for them to fill in words to create the poem. Don't forget to write poems from you to your children as well — they will think it's hilarious!
The lost art of a homemade card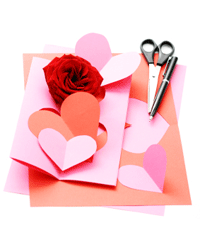 We're not sure when making homemade Valentine's Day cards fell by the wayside, but this gift-free celebration is the perfect time for them to make their big comeback. Kids absolutely love creating cards, and spending an afternoon together as a family making cards for each other and loved ones will be a blast. Spread out all the supplies on the kitchen table and go for it — glitter, stickers, construction and decorative papers — and let them get creative with their feelings about love.
Instead of making cards for each family member, draw names, just like you would during the holidays for giving gifts. This way, each person can spend their time making one special card for a family member that is memorable and thoughtful. Older kids can cut heart shapes ahead of time, so the younger kids can simply glue them on.
OK, maybe just one gift... time
This is one gift that you can always give without fear of Valentine's Day turning into a holiday focused on presents — the gift of your time. Most parents feel the strain of being too busy to spend quality time with their children at some point during the week.
"Time together without interruptions may be the best present-free gift you can give to your kids this Valentine's Day."
All parents have felt that pang of guilt when they've had to turn down a trip to the park to go play on the swings or the chance to work on one more puzzle together. Time together without interruptions may be the best present-free gift you can give to your kids this Valentine's Day.
Turn off your iPhone — and not just the sound. Shut down your laptop and set an out-of-office response on your email. It doesn't matter where you go or what you do — it's simply the gift of your child knowing that he comes first. Time isn't always the easiest gift to give, but it certainly gives back the greatest rewards when it comes to your kids.
More on Valentine's Day with kids
7 Ways to celebrate Valentine's after the kids go to bed
6 Simple ways to make Valentine's Day special for the whole family
How to take Valentine's Day down a notch