Having family photos taken is one of the hottest new trends in the world of parenting -- it's more affordable than ever to have professional photos taken and in our all-digital world, photographers can easily just hand you a disc with your images and let you print pictures, cards and canvases on your own until your heart is content!
But, with so many families taking pictures, how do you make yours stand out? Check out these fun ideas and inspiration that we've pulled from some of the most popular Pinterest pins to make your next family photo shoot your own.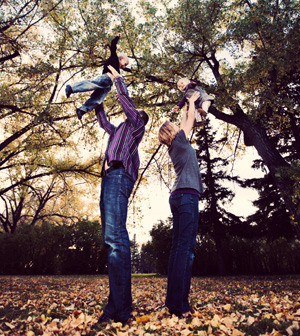 Go bright and colorful
This example of a professional family photograph must be one of the most popular pins on Pinterest right now and it's easy to see why -- not only is this family adorable, but the photograph is eye-catching with their bright, fun wardrobe choices and just the right amount of matchy-matchy outfits. Don't be afraid to take your normal wardrobe a bit further for family photos -- add another pop of color... this pin proves that you won't regret it! (original pin source)
Pick an unexpected location
We've seen it all before -- the barefoot family photographs on the beach or sitting together in the middle of a beautiful field with tall grass. So, break the mold with an off-beat location for your next set of family photos. Photographer Laci Davis is all over Pinterest with this fantastic shot of a family at a deserted carnival. For your own pictures, pick a location that means something to your family -- take a risk with somewhere a little unusual!
Incorporate fun, not cheesy, props
Emphasis on the not cheesy part... Put all of those in-studio professional photos behind you and use something fun that shows your family's personality in your next photo session. For families who have enough people to pull it off, spelling out "family," just like in this popular pin of a photograph by elizaj photography, is a creative prop option that results in a wonderful piece to hang in your home. (original pin source)
Get movin'
Sometimes, the best pictures are the ones that just happen -- the ones that the photographer clicks while you aren't paying attention. This pin of two parents having a quick moment of fun with their kids is priceless and has been popping up all over Pinterest recently. The original photograph is by The Image is Found, a husband and wife photography team from San Diego who, from the looks of their photos, love getting families moving for some great shots.
More on Pinterest
Pinterest: What is it, how to use it and why you'll be addicted
Pinterest for moms: The best of birthday parties
Pinterest for moms: Create a family gallery wall