If nursery design is on your mind, Pinterest is going to knock your pregnant socks off with inspiration and ideas. Searching for nursery design elements on Pinterest is like being able to read the best parts of all of the best blogs, shopping sources and design websites online, pulling them together into one single location. Check out these great ways to get started pulling together the nursery of your dreams... all with Pinterest.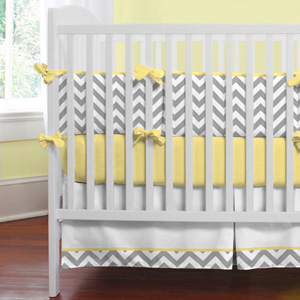 Sometimes color leads the way
Often times, when it comes to nursery design, color is the element that is most important and thankfully, Pinterest comes to the rescue when you have the color scheme in mind, but are still waiting for the other pieces to fall into place. Plug in the colors that you can't stop thinking about, along with nursery, and let Pinterest do the rest of the work. Gray and yellow are currently a popular nursery color combination (and great for a gender-neutral nursery) and this popular pin of pretty gray and yellow crib bedding is the perfect example. (original pin source)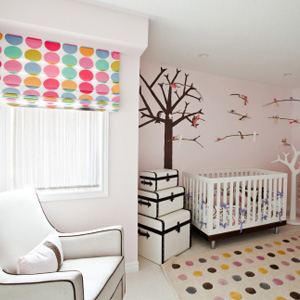 Finding a specific design element
Using Pinterest to design your nursery is as easy as jumping on and searching for specific nursery elements you already have in mind. For example, say you want to use the theme of birds in your nursery, you can pull up dozen of pins where other pinners are thinking about bird decor for their nursery as well, such as this adorable nursery with pretty bird decals. (original pin source)
Searching by gender
When you don't have any direction for your nursery other than the sex of your baby-to-be, sometimes it's easiest to just jump into Pinterest and do a general search on nurseries for boys or nurseries for girls and then narrow down what catches your eye from there. This gorgeous room for a precious baby girl has been a popular pin on Pinterest lately (original pin source) and when it comes to the boys, Pinterest is all over this bold nursery design. (original pin source)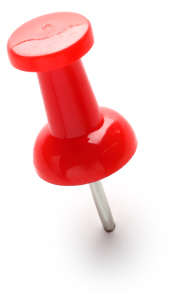 Don't forget, you can also use Pinterest to pin your own favorite finds online. Read more about how to get started pinning yourself with this Pinterest how-to article.
Brainstorm for that last missing element
There's a reason we are all on Pinterest -- because we aren't all interior designers and sometimes we need a little help pulling together those last crucial elements of our nursery, but don't know where to start. Pinterest also comes in handy when you're on the hunt for one specific piece -- the perfect lamp, artwork or rug to make your nursery feel complete (and to satisfy that pesky nesting urge). Nursery artwork with your baby's name is always a popular choice and pinners agree -- this custom ABC name art was pinned over and over again by moms-to-be. (original pin source)
More pin-worthy nursery inspiration
Decorating a gender-neutral nursery
Baby nursery design on a budget
Real Moms Guide: 5 Nursery trends for hip moms