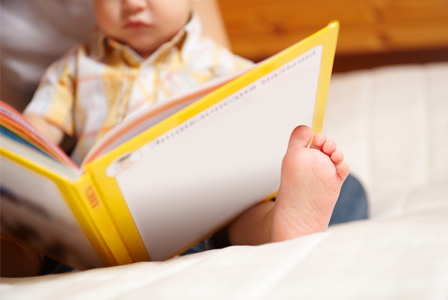 Babies are the cutest little sponges in the world and they respond amazingly well to being read to. Here is why experts recommend reading to babies. Plus, check out this roundup of the five best board books for babies.
The importance of reading to babies
We have all heard plenty about the benefits of reading to our children -- but did you know those benefits were for babies too? Before babies understand language (or even that pictures represent objects), they can grow and develop by being read to.
Helps baby talk

Babies are constantly learning sounds they need to know to learn language, and reading books to them can help them along in this process.
The more words they hear, the more will be added to that little bank inside their brains where all the sounds go. "The more babies and toddlers are exposed to language, the quicker they learn it. Since infants can't engage in conversation with you, reading is a much better alternative than talking baby talk," says child psychiatrist Dr. Stuart Jeanne Bramhall. "Children's whose earliest memories are of parents reading to them, naturally accept reading as a normal part of daily life. They are more likely to become strong readers and writers. Reading to children regularly before bedtime can help relax them and make them more amenable to a regular bedtime routine."
It creates a bond
Your baby will love to sit with you and be close and snuggle and hear your voice, and know that all these positive emotions are connected to books.
"Close proximity and contact define attachment behaviors in children," says author and infant attachment expert Julia Simens. "When a parent reads to a child, the proximity sends the message you want to be close and connected. This is important to all children."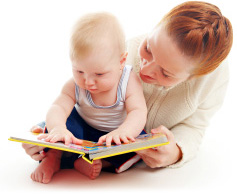 5 favorite books for babies
Baby Faces
-- This classic gives babies what they prefer (photographs over illustrations) and provides a whole book full of different expressions for them to learn. (Amazon, $6)
The Very Hungry Caterpillar --
This infamous caterpillar is so silly that any baby would love to hear his story over and over. Babies love the repetitiveness and the variety of colors. (Amazon, $6)
Mr. Brown Can Moo! Can You? -- The repetition is perfect for babies, along with all the fun noises they will hear come out of your mouth! (Amazon, $5)
Brown Bear, Brown Bear, What Do You See?
-- Another fantastic repetitive book means babies will learn that they can join in and make fun noises too! (Amazon, $9)
Goodnight Moon
-- No list is complete without this timeless classic. It's always on the "best of" lists because it really is that amazing. Babies will love the flow and rhythm your voice makes as you read this book. (Amazon, $12)
More on baby development
Best bedtime stories for babies and toddlers
7 ways to foster early reading skills in baby
10 ways to get your baby talking