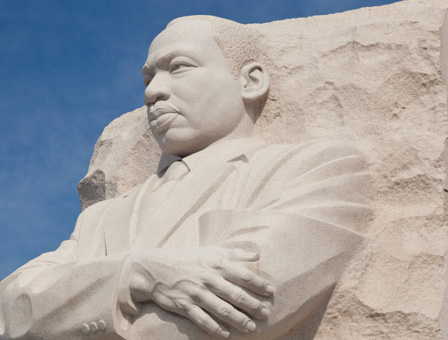 Martin Luther King Jr. has forever changed our country by his courageous leadership qualities. With this easy-to-understand information, help teach your children about this historical leader and the importance of standing up for what you believe in.
Educate and celebrate Martin Luther King Jr.
Start the conversation with your kids and honor the man that changed equality forever.
What is Martin Luther King Jr. Day?
Martin Luther King Jr. Day is a day of remembrance established by the U.S. government to honor Dr. Martin Luther King Jr. It's observed on the third Monday of January each year. Dr. King was born on January 15, 1929 and this year marks what would have been his 84th birthday.
MLK Day gives us a day to reflect on the monumental changes that one man set in motion.
What did Martin Luther King Jr. do for us?
Martin Luther King Jr. fought for equal rights amongst black and white citizens in the 1950s and 1960s. These rights included the right to work and make an honest living, the right to vote, the right to use public places and the right to receive a good education. It is important to educate, remember and honor the man that made these equal rights possible for our children and for all of us.
I have a dream
Dr. Martin Luther King Jr.'s 17-minute public speech in 1963 included these famous words: "I have a dream that my four children will one day live in a nation where they will not be judged by the color of their skin but by the content of their character."
What do the children of 2013 dream of for our future? Because we love their honest answers, we asked a few children about their dream for the future and this is what they shared:
"I dream for all the LEGOS in the world and then I will share them with the kids that don't have any. But I will keep the good ones." — Connor, age 7.
"I dream like Martin Wuther King." — Jonathan, age 5.
"I have a dream for world peace." — Hunter, age 9.
"I have scary dreams sometimes." — Bennett, age 4.
Celebrating Martin Luther King Jr. Day with kids
Asking your children their dream is not the only thing you can do to honor Dr. Martin Luther King Jr. Involve your children in these activities to pay respect to the man that fought for equality.
Read a book about the life of Dr. Martin Luther King Jr. and discuss the lessons he taught about freedom and racial acceptance.
Act out his famous "I have a dream" speech while implementing your own words and hopes for the future. Ask your children what it means to have a dream, and how they can achieve theirs.
Organize a peace parade in your neighborhood. Children can decorate their bicycles or scooters and invite friends to join in.
Fly the American flag from your house.
Write out dreams on small pieces of paper, attach them to helium balloons and let the balloons go outside.
More on racial diversity
Teaching kids about racial and cultural diversity
Teaching kids to embrace diversity and be inclusive
Actress and author Diane Farr talks about raising a biracial family