Celebrity Baby
Bump Watch
Happy Hump Day! Every Wednesday we round up the cutest pregnant celebrities for Celebrity Bump Day. This week, there must be something in the water at Victoria's Secret, as Alessandra Ambrosio and Lily Aldridge are both pregnant. Also on the radar? Kourtney Kardashian's sexy New Year's Eve style and a casual, yet cute Jennifer Garner.
(page 4 of 4)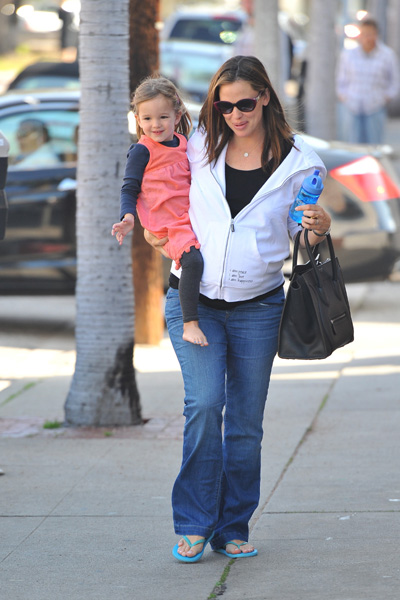 Jennifer Garner
Jennifer Garner carried her barefoot daughter Seraphina in Los Angeles late last week. The actress and her husband, Ben Affleck, are expecting their third child any day now. Ben recently gave her two diamond bands for each of their daughters. "He knows when to swoop in with the gesture. He's sweet that way. Honestly, I would do anything for that man, because I know it's not taken for granted," she gushed to InStyle magazine.
Photos: WENN
More celebrity bump day fun
Celebrity bump day: Jennifer Garner, Susan Downey and more
Celebrity bump day: Kourtney Kardashian, Beyonce and more!
Celebrity bump day: Jennifer Garner, Jessica Simpson and more!