Incorporate Baby Into Your NYE Plans
Though you probably don't want to take your new baby to a loud party, there are plenty of other ways to celebrate the New Year with your little one. Make your New Year's Eve special and fun, even with a baby.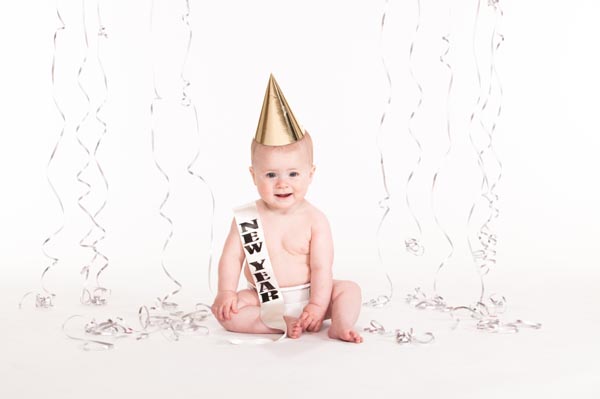 Watch the ball drop on television
Unless you can spend a fortune on a babysitter or have a family member in town who is willing to watch the baby, you might be staying in to watch Anderson Cooper ring in the New Year in Times Square. Don't fret because most new parents are in this position. To spice things up, plan a fun menu to cook together with your hubby or have some board games to play during the commercials.
Host a slumber party
If you have enough space at your home, there's no better time to have some close friends and their babies over for a classic slumber party. You can order pizza or host a potluck dinner. When the kids go to sleep, you can break open the champagne. The beauty of a slumber party is that no one has to worry about transportation when the festivities come to a close.
Invite your friends over
The easiest way for new parents to celebrate in pre-baby style is to bring the party to you. Invite other parents with babies and young kids. It can be a play date and New Year's Eve party rolled into one. Celebrate early, it's New Year's in other time zones after all, and you can maintain the family-friendly atmosphere.
Go out to an early dinner
Some babies can tolerate a short time in public without too much fussing. Plan an early dinner well before bedtime. You could also find a holiday event that is not overly long and slightly more mellow. Try to give your baby a nap, clean diaper and food right before the outing so she is content when you go.
Bring your baby to the party
If you really want to go out to a party, consider bringing your little one with you. This depends on what kind of party you'll be attending, of course. A loud, raging soiree is not an option, obviously. But it's acceptable to bring your baby to a gathering at a friend's home where there will be food, drinks and celebration. Just make sure your baby won't mind being around strangers and will stay happy for the most part. It's a big plus if the host has a secluded area where you can lay your baby down early. No one wants to ring in the New Year with a screaming baby.
Make plans for New Year's Day
Believe it or not, you don't have to be awake at midnight to celebrate the New Year. Instead, consider going to bed early and then celebrating on New Year's Day. Going out to a special family brunch or having friends over for appetizers and cocktails the next afternoon is a fabulous idea. You'll have something fun to look forward to and going to bed at an earlier hour won't seem so lame.
More about family holiday traditions
Ideas for your own Elf on a Shelf
Hanukkah traditions for the whole family
10 Holiday traditions from across the world