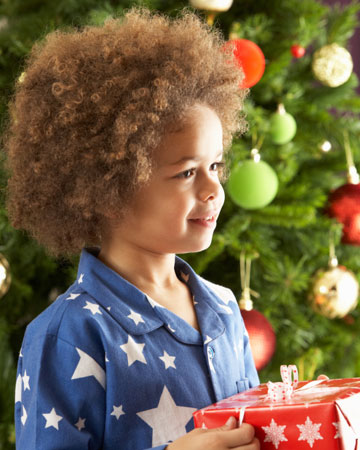 Create memories this Christmas Eve
Christmas Eve celebrations can be as fun as the big day itself.
Enjoy the lead up to Christmas with special day-before celebrations and traditions.
Pajama party
Kids can never have enough pajamas and Christmas Eve is the perfect excuse to get them a fresh pair. Whether you decide on matchy-matchy ones or your kids' favorite character ones, let them hang out in their new PJs all night long. Mom and Dad — don't forget to get new pajamas for each other too!
Take in a flick
One of the toughest parts about Christmas Eve is keeping the kids distracted while they wait for family to arrive and presents to be put under the tree. So get them out of the house for a fun movie day. We're guessing there's a holiday flick out there that's perfect for the whole fam. Don't forget the extra-large tub of popcorn!
Open one present from under the tree... just one!
Have your children been staring at the presents under the tree for days now? It's going to be even worse on Christmas Eve when the anticipation seems to come to a head! So go ahead and give in — let them open one present on Christmas Eve to hold them over. Just one! Choose gifts for them to open that they can utilize or play with that night like a special Christmas book or board game.
Spend the day thinking of others
Create the Christmas Eve tradition of giving back by volunteering as a family. There are so many local charities that need help during the holidays, including soup kitchens serving Christmas Eve dinner, homeless shelters that are out in the community handing out comfort packs or sandwiches and so many more options. Do some research beforehand to find a local organization where your entire family can volunteer. It's a good feeling that's sure to stick with you all through the rest of the holiday season.
Create a special Christmas Eve menu
For most families, Christmas Eve is focused on getting together with family and spending some quality time together, which means that there is sure to be food involved. This year, incorporate your kids' input into your family's Christmas Eve menu. Start a tradition to bake cookies together or make homemade pizzas as a family. Whatever the new tradition, let your kids help choose the Christmas Eve yummies!
More about holiday traditions
Ideas for your own Elf on the Shelf
Creating holiday traditions around food
Small holiday traditions that make a big impact