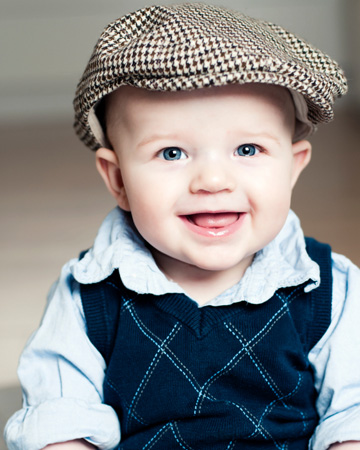 Posh baby girl and boy names
If you are a hip and trendy parent, then you need a designer baby name to go along with your designer wardrobe. From names of labels to top designers and models, check out our pick of designer baby girl names and baby boy names that are perfect for posh parents.
What makes a baby name fashionable? It must be edgy and unique and able to stand on its own. Names like Cher and Madonna need no last name to distinguish them from the rest. For tips on finding a baby girl name or baby boy name as hip as your wardrobe, keep reading.
Haute names of fashion designers and labels
The names of the talented fashion designers are as cutting edge and cool as the clothes they create. If you are looking for a haute baby name for your boy or girl, why not start with the designer? If both the first name and the last name would make a cool name, such as Calvin Klein, we have separated the name so it stands on its own. We have not broken up the list into girl names and boy names because fashion isn't about conforming to the norm, but making your own rules. Check out our picks below.
Klein
Calvin
Alexander
Sui
Chanel
Coco
Karan
Adele
Anju
Donatella
Carolina
Versace
Prada
Vivienne
Vera
Tory
Christian
Domenico
Gianni
Cristobal
Giorgio
Hugo
Helmut
Michael
Zac
Valentino
Tommy
Ralph
Oscar
Manolo
Julien
Issey
Jean
Stefano
Stella
Beckham
Fabulous name, dahhhling!
No one will wonder, "Who is she wearing?" when they hear your child's couture name. Check out these unique and fashionable names of some of the hottest labels around.
Celine
Chloe
Christian
Dior
Dolce
Fendi
Gabbana
Facchinetti
Gucci
Lanvin
Versace
Prada
Lacroix
Balenciago
Jacobs
Hermes
Lauren
Ferragamo
Missoni
Philip
Cavalli
Valentino
Givenchy
Diesel
Louis
Galliano
Vuitton
Viktor
Rolf
Model perfect baby name
Have you noticed that the fashion models have as fabulous names as the labels they are wearing? If you are looking for an exotic name that helps your child stand out in a crowd, you will love the following choices.
Gisele
Adriana
Alessandra
Miranda
Marisa
Karolina
Heidi
Selita
Izabel
Stephanie
Doutzen
Claudia
Cintia
Naomi
Bar
Candice
Tyra
Elsa
Helena
Brooklyn
Rosie
Lily
Miranda
Petra
Mark
Marcus
Taylor
Mathis
Tips for finding a posh baby name
When searching for a fashionable baby name, don't be afraid to think outside of the box. Unisex names are hip and always in style, as are exotic names. Look though out list of Italian names for a girl or boy moniker that is as hip as it is worldly. Consider names with X or Z, such as Jax or Zane, and even look to the past to find an old-fashioned name that suddenly feels fresh and modern. Another fashionable find is using a last name as a first name, such as Smith, Nixon or Dyer.
More baby name ideas
Modern names for boys
Modern names for girls
Exotic baby names from around the world