I wrote my book, Chocolate Me!, to encourage kids to embrace their unique characteristics. Following are some of my tips for parents on how to expose kids to the world outside their own.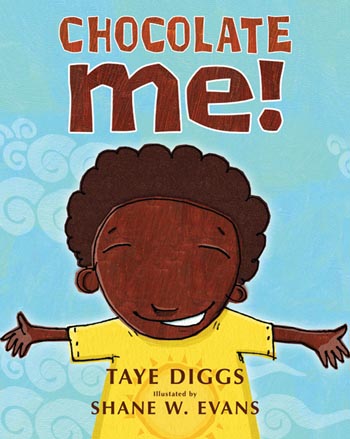 Diversity talk: The sooner, the better
It's important to expose your kids to diversity, and I think that when it comes to embracing differences, the earlier, the better!
I wrote Chocolate Me! about my personal experiences from childhood. One of my earliest memories of being "different" occurred when I was 5 years old, and it centered on the impression I made on someone else based on the way that I looked.
Kids are very impressionable, especially at that age. I feel that the sooner you can introduce and expose your children to ideas that are outside their "norm," the better off they'll be. Whether you're providing them with ways to protect themselves from getting their feelings hurt or providing them with knowledge of the world, they'll be more prepared for the future.
I'm certainly not an expert and I can only speak from my experiences, but I truly believe that discussions about diversity should begin when kids are young. I hope my experiences can help others.
Order your very own copy of Chocolate Me! and get the conversation started >>
Diversity during the holidays
Diversity discussions and awareness should occur all year long, but the holidays are a great time to focus on them. During the holiday season, families come together. Depending on the type of family you have, you might experience a diverse holiday without going far at all.
"I encourage families to step outside of their typical comfort zone."
However, if that's not the case, venture out! Go on trips -- even small ones to nearby neighborhoods -- where your culture or race isn't predominant. I encourage families to step outside of their typical "comfort zone." Go to a place where you know people will be different, whether that means they are of a different religion, ethnic background or monetary background.
It's as simple as exploring the world around you so that your kids know that not everybody looks like them. Or, in many cases, so they know that there are other people who do look like them!
Chocolate Me!
The book I wrote is based on my experience of being different and realizing it because of the way I was treated at 5 years old. My mom talked with me and made me understand that I should be proud of who I was -- that my differences were unique and special.
When I read Chocolate Me! to my son, he loves it. And while he may be too young to understand the complexities, I hope that by raising him in a home where diversity is an everyday discussion, he'll feel good about who he is and be open to the world around him.
More on Taye Diggs
This September, Diggs' first children's book entitled Chocolate Me was published by Feiwell and Friends. The book tells the story of a relentlessly teased child who learns to appreciate what sets him apart from his neighbors and is illustrated by Diggs' longtime friend, Shane Evans.
An established star of film, television and theatre, Taye Diggs made his feature film debut starring opposite Angela Bassett in the box office hit How Stella Got Her Groove Back and currently stars in the ABC series, Private Practice, in which he plays the role of Dr. Sam Bennett.
Born in New Jersey, Diggs grew up in Rochester, New York, attending High School of the Arts. He received his Bachelor of Fine Arts degree from Syracuse University, where he studied theater, and was discovered by an agent while performing in a showcase during his senior year in college.