Baby Names From
Another World
If you are searching for a spiritual or unique baby name, you will love our list of angelic baby names for boys and girls, as well as famous angels in movies, names that mean angel and names of specific angels.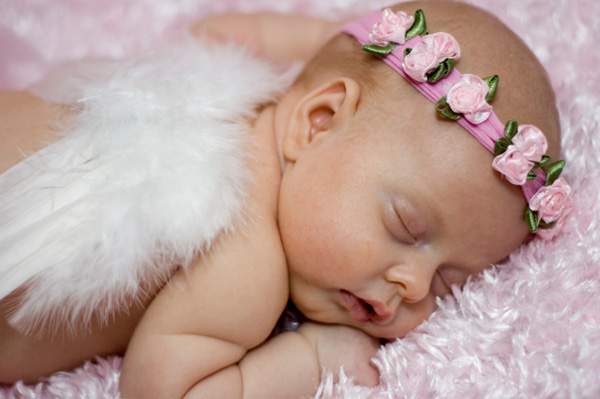 Angelic baby names are as unique and beautiful as they are meaningful. Angels are mythical or spiritual beings that are thought of as messengers of God that often protect and guide human beings. Angels are often portrayed clothed in white with beautiful wings and a halo. If you are searching for a truly angelic baby name for your baby girl or baby boy, you will love these unique and wonderful names.
Naming your baby Angel
The name Angel is of Spanish origin and is generally considered a boy's name, although this name could be just as beautiful for a baby girl. The name Angel was ranked number 42 on the Social Security Administration's top baby name list for boys. You can also consider these great baby names that are similar to Angel.
Angela
Angele
Angelina
Angelee
Angelette
Angelica
Angelisa
Angelo
Angel baby names
If you are looking for a unique and beautiful name, these angel names are otherworldly. Why not match the angel name with an attribute you would like for your child?
Afriel: Angel of youth
Ariel: Angel of nature
Cassiel: Angel of temperance
Charmeine: Angel of harmony
Dina: Angel of learning
Gavreel: Angel of peace
Michael: Angel of loyalty
Gabriel: Angelic messenger
Raphael: Angel of healing
Micah: Angel of miracles
Uriel: Angel of creativity
Forfax: Angel of astronomy
Hadraniel: Angel of love
Jophiel: Angel of enlightenment
Lailah: Angel of conception
Manakel: Angel of peace
Nathaniel: Angel of fire
Ramiel: Angel of thunder
Sariel: Angel of guidance
Sachael: Angel of water
Tabbris: Angel of self determination
Xapham: Angel of creation
Raziel: Angel of mysteries
Paschar: Angel of vision
Zuriel: Angel of harmony
Zuphlas: Angel of trees
Zadkiel: Angel of prayer
Names with angelic meanings
The following baby names are not only unique and lovely, but all have angelic meanings.
Aingeal: Irish girl name meaning "angel"
Erela: Hebrew girl name meaning "angel"
Erelah: Hebrew girl name meaning "angel"
Malayeka: Arabic girl name meaning "angel"
D'Angelo: Italian boy name meaning "from the angel"
Engelbert: German boy name meaning "bright as an angel"
Serafim: Hebrew boy name meaning "an angel-like being"
Seraphina: Hebrew girl name meaning "fiery-winged"
Angelique: French girl name meaning "like an angel"
Faida: Icelandic girl name meaning" wings that are folded"
Evangeline: Greek girl name meaning "bringer of good news"
Famous angels in movies
Some of our most beloved characters are angels in movies and TV shows. Here are just a few of our favorites:
Clarance: It's a Wonderful Life
Tess: Touched by an Angel
Monica: Touched by an Angel
Archangel Michael: Michael
Dudley: The Preacher's Wife
Seth: City of Angels
Bartleby: Dogma
Loki: Dogma
Gabriel: Constantine
More baby name ideas
Spiritual baby names
Biblical baby names
Baby name trend: Mythical baby names