My wife, Idina, is an amazing mom. So much of who we are today is a result of the wonderful job she did preparing herself for motherhood. She read book after book and absorbed as much information as possible.
I, on the other hand, went from my personal experience in life and what I saw other families doing, as well as what I noticed growing up. Sure, she and I did it differently, but it worked. Here are a few of my tips.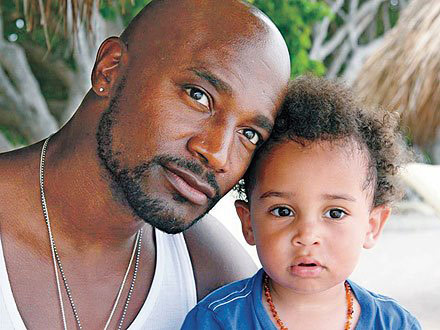 Daddy connections
One of the first things I did after my son Walker was born was take off my shirt and hold him against me. It was such an important moment where the two of us were connecting on a very similar level. We were skin-to-skin and he could feel my heart beat. He could take in my scent, feel me breathing and hear my voice resonating.
It was a special way that he and I could connect. There's no way a father can compete with a mom's ability to grow a baby in her womb! We're trying to play catch-up in the way that works for us.
Walker and I continued this through his upbringing and it has definitely strengthened our bond. Dads might not have the physical gift of growing a baby, but sometimes we have instincts. Let us run with them!
Did you know that Taye Diggs is an author? Check out his book, Chocolate Me! >>
Parenting equality
We all get tired or frustrated. Parenting is an amazing experience, but it's not always easy. However, the way we talk to each other really matters. Idina and I have found that one of the best gifts we can give our child is a strong relationship. You have to respect each other.
Be positive
For a lot of dads, the new parent learning curve is just a bit off. We haven't had the same amount of time to connect in the way that you have during pregnancy.
This isn't the case with all dads, but if we're honest, a lot of us will acknowledge that we have a slightly steeper learning curve when it comes to parenting. Support us. Be positive, encouraging, gentle and patient. You're good at what you do and we know that! We love our kids, so give us the support we need as we grow toward becoming the best dads we can.
How to help
My wife and I believe that it's not only important what you say, but how you say it. Think about your words and how you deliver them. "You're doing it wrong!" probably won't go over so well.
"Just sit back and give us time. We're going to figure it out, one dirty diaper at a time."
Being inclusive goes a long way. Sure, you may have the upper hand, but admit it: you're learning, too. When you offer advice, it helps to use words like "us" and "let's." Remember to tell us that we're learning this parenthood thing together rather than you know best, even when you do know best. Just sit back and give us time. We're not stupid, and we're going to figure it out, one dirty diaper at a time.
More on Taye Diggs
This September, Diggs' first children's book entitled Chocolate Me was published by Feiwell and Friends. The book tells the story of a relentlessly teased child who learns to appreciate what sets him apart from his neighbors and is illustrated by Diggs' longtime friend, Shane Evans.
An established star of film, television and theatre, Taye Diggs made his feature film debut starring opposite Angela Bassett in the box office hit How Stella Got Her Groove Back and currently stars in the ABC series, Private Practice, in which he plays the role of Dr. Sam Bennett.
Born in New Jersey, Diggs grew up in Rochester, New York, attending High School of the Arts. He received his Bachelor of Fine Arts degree from Syracuse University, where he studied theater, and was discovered by an agent while performing in a showcase during his senior year in college.