Stylish Blogs For Moms And By Moms
In style and on trend, these five mom bloggers know how to work a play date like the runway. They give a whole new meaning to the mom uniform, with affordable fashion tips for moms of every age and fit for any budget.

Momma Go Round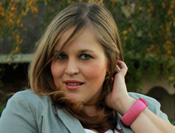 Nina is on a journey to redefine her style as a mom at Momma Go Round. This former teacher has been in love with her husband since the sixth grade! Now she stays home with their beautiful son LJ and offers budget and style conscious tips for moms on her blog.
Fabulous photos showcase what she's wearing as Nina discovers what makes sense for her as a mom to a toddler. Each week at Momma Go Round, readers can link up to Real Momma, Real Style to share and show off what they're wearing as well.
Why we love this blog: Nina's focus is on real style for real women. Can't possibly love that more.
Mama Loves Papa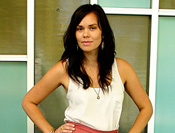 Everyone loves Mama Loves Papa, the lifestyle and fashion blog penned by the beautiful Morgan Fairchild, mom to three boys and a girl. She has one of the most coveted closets (and figures) of all the mom blogs and posts photos of her hippie chic and bohemian style, inspiring other moms to tie on a colorful scarf or finally find that perfect tall boot. Every week, she showcases Small Style around the web with a link up for other moms to share what their wee ones are wearing.
Why we love this blog: Morgan has an amazing eye for layers of colors and patterns that totally complete the look -- Mama Loves Papa is a must read for busy and stylish moms of many.
The Pleated Poppy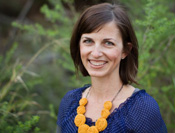 The What I Wore Wednesday link up at The Pleated Poppy has hundreds of participants each week. Lindsey Cheney blogs at The Pleated Poppy about her fashionable, homeschooling and crafty life with her three kids, ages eight and under -- all while managing her popular accessory shop by the same name.
She takes snapshots of what she wears throughout the week to feature on her What I Wore Wednesday link up. Lindsey's casual but chic mom style is always a great example to other moms in the fashion trenches.
Why we love this blog: Lindsey is darling and a positive ray of sunshine with a total knack for putting together the cutest outfits each week.
Good Life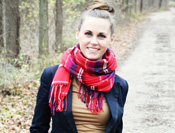 Jill is a stay-at-home mom of two children who loves shopping and believes that fashion is for all ages, especially moms (young and old.) This stylish mom blogs at Good Life, and her favorite outfit of choice is leggings or skinny jeans with a blazer paired with stripes.
Jill's blog insists that even moms on tight budgets can still look and feel amazing. Her thoughtful posts and IT lists aim to build confidence in women and assist them in dressing so that they feel at their best.
Why we love this blog: Jill is adorable, friendly and warm with her tips and fashion suggestions for moms of all ages and sizes.
Ain't No Mom Jeans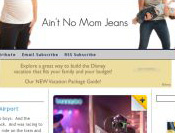 Ain't No Mom Jeans is a huge fan favorite featuring everyday mom style by Shana and Molly. These two moms offer tips for real bodies and are experts on how to maintain a hip maternity wardrobe on the cheap. They also know just where to find the best clothes for everyday mom functions like breastfeeding and toting kids.
Fashion and lifestyle posts fill the pages of Ain't No Mom Jeans, created by Shana Draugelis a few years back in a fit of want for mom-friendly clothes that still made her look amazing. We're talking wash and wear while still on trend and cool. Their expansive category list has recommendations for head-to-toe -- from accessories to what to wear while you wear your baby and, of course, over 10 categories for denim alone.
Why we love this blog: Shana and Molly are encouraging and helpful and provide one of the largest resources for mom style on the web.
Tell us
Who is your favorite fashionable mom blogger? Share in the comments section below!
Read more on mom blogs
Best design blogs for moms
Most inspiring mom blogs
Best craft blogs for moms