Remedies For Varicella Virus Symptoms
When your little one catches a case of the chicken pox, soothing the itching, aches and pains are at the top of your mommy to-do list. So, how do you ease your youngster's suffering while the virus, formally known as varicella, runs its course? From over-the-counter remedies to at home soothing soaks, discover five ways to sooth chicken pox in children.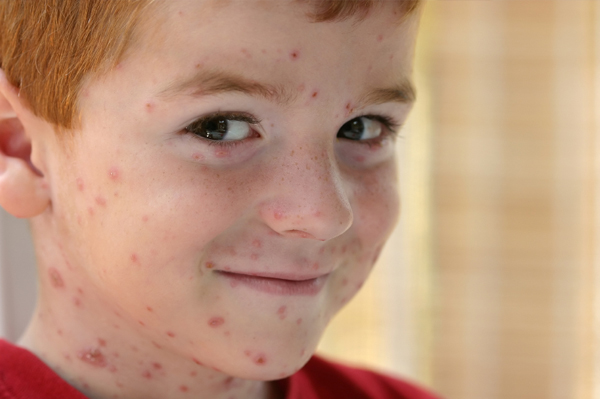 Quell aches and pains with acetaminophen
The chicken pox virus typically comes with viral-type symptoms like headache, fever, fatigue and muscle aches. When your children are suffering through these discomforts, acetaminophen can be given according to the dosage information on the bottle.
Soothe varicella with soaks
Warm baths blended with 2 cups ground oatmeal such as Aveeno Oatmeal Bath or home-ground oatmeal can help reduce itching in children with chicken pox. Adding one half to one cup of baking soda to a warm bath may also put a halt to itching. However, when you don't have either on hand, frequent warm baths are sometimes helpful as an alternative.
Get the scoop on another common childhood virus: Coxsackie virus >>
Dry up chicken pox with lotion
Calamine lotion is the most common lotion used to soothe itching due to chicken pox, applied directly to blisters to help them dry out and to give the skin relief. "My strategy was to give them a bottle of Caladryl and an artist's brush and let them paint their 'polka dots,'" shares Elisabeth Morrissey, author of It's Not All About You! and former nanny. "Then they'd get to play dot-to-dot and draw pictures with the spots."
Treat itching from the inside with medication
Over-the-counter antihistamines such as Benadryl can be given to children to lessen severe itching. Due to its drowsiness-inducing nature, it is best given at night. Claratin or Zyrtec may also help diminish severe itching from blisters and do not cause drowsiness. You may also discuss anti-viral medications such as Zovirax with your doctor, which may shorten the course of the virus.
Avoid bacterial infections by preventing scratching
Scratching varicella blisters can lead to bacterial infections, so shorten your youngster's nails to keep him from breaking open itchy chicken pox. You can also have young children wear mittens to prevent scratching as well.
Suspect one of your children has caught a case of varicella? You may want to get a professional opinion before treating it as chicken pox. "With the vaccines available today, incidents of chicken pox are rare," explains Dr. Charles I. Shubin, M.D, Mercy Medical Center. "If you suspect that your child has the chicken pox, call your pediatrician immediately to rule out other possibilities, such as rashes that are not chicken pox related." But, for those kiddos who do come down with the chicken pox, you'll be a superhero mom ready to conquer the suffering it can bring with these five ways to soothe chicken pox in children.
Uncover more about chicken pox
The chicken pox varicella vaccine
How to sterilize the house after the chicken pox or strep
Chicken pox and pregnancy