The Hunger Games
Baby Names
The Hunger Games trilogy not only has an amazing storyline, thanks to best-selling author Suzanne Collins, but also has a slew of cool names. From Katniss to Peeta, check out the characters with unique names from The Hunger Games.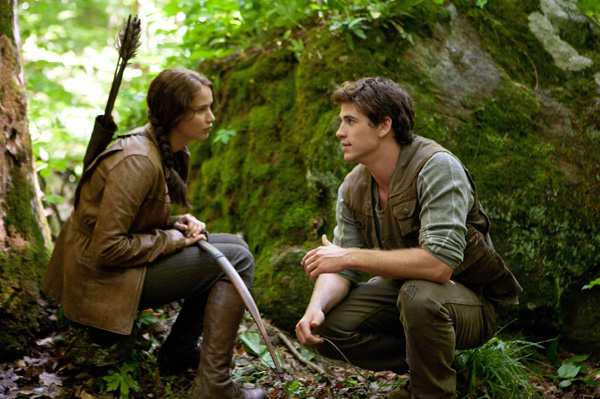 The Hunger Games frenzy is heating up, thanks to the upcoming movie with an amazing cast including Jennifer Lawrence, Josh Hutcherson and Liam Hemworth, to name a few. Can't wait to see Katniss whip up on her opponents? Check out our picks of these amazing names from The Hunger Games trilogy that would also happen to make great baby names for your girl or boy. We can't wait to see a little Primrose or Efffie running around the schoolyard!
The Hunger Games names
The first of The Hunger Games trilogy features Katniss Everdeen, who lives in the post-apocalyptic country of Panem. She volunteers to take the place of Prim, her younger sister, to fight to the death in a televised match called The Hunger Games. The movie is slated to hit theaters March 2012 and the actors playing the characters listed are in parenthesis below.
Girl names from The Hunger Games
Katniss Everdeen -- The main character of The Hunger Games; names comes from the edible plant called katniss (Jennifer Lawrence)
Effie Trinket -- Chaperone from the movie; English name meaning well spoken (Elizabeth Banks)
Clove -- District 2 Tribute; name is a spice used in cooking (Isabelle Fuhrman)
Primrose (Prim) Everdeen -- Katniss' younger sister; English name meaning first rose (Willow Shields)
Rue -- District 11 tribute; meaning of name unknown, however, word means "to regret" (Amandla Stenberg)
Glimmer -- Fellow contestant in The Hunger Games; name means "to shine" (Leven Rambin)
Boy names from The Hunger Games
Gale Hawthorne -- Friend and hunting partner of Katnisss; English name meaning lively (Liam Hemsworth)
Peeta Mellark -- Katniss' love interest; origin of name unknown (Josh Hutcherson)
Caesar Flickerman -- Narrates the Games; origin of name unknown, however, the name of Roman dictator Julius Caesar (Stanley Tucci)
Haymitch Abernathy -- Mentors Katniss and Peeta; origin of name unknown (Woody Harrelson)
President Coriolanus Snow -- President of Panem (Donald Sutherland)
Claudius Templesmith -- Announcer of the Games; English name meaning lame (Toby Jones)
Cato -- District 2 Tribute; Latin name meaning intelligent (Alexander Ludwig)
Seneca Crane -- Head Gamemaker of the 74th Hunger Games (Wes Bentley)
Cinna -- Katniss' stylist; Shakespearean name that means poet (Lenny Kravitz)
Catching Fire and Mockingjay main character names
Catching Fire is the second book (movie slated for November 2013) and Mockingjay is the third and final book in The Hunger Games trilogy. In this book, we see our favorites, including Katniss, Peeta and Rue, with some new ones mixed in.
Finnick Odair
Mags
Johanna Mason
Beetee
Wiress
Enobaria
Plutarch Heavensbee
Annie Cresta
President Alma Coin
Cool and unique names from The Hunger Games trilogy
The following character names may not be one of the main characters of the book, but they are equally as cool.
Atala
Blight
Boggs
Bristel
Brutus
Cashmere
Cecelia
Chaff
Flavius
Foxface
Fulvia Cardew
Gloss
Hazelle Hawthorne
Jackson
Lavinia
Octavia
Portia
Posy Hawthorne
Ripper
Romulus Threat
Rory Hawthorne
Thom
Titus
Tigris
Venia
Vick
Wiress
Woof
More baby name ideas
Powerful baby names
Unique names from pop culture
Unique baby names from classic books
Photo credit: Lionsgate