Create A Stylish
Portrait Display
If a picture says a thousand words, then a good family portrait wall says a million! When it comes to displaying family photos in your home, the thought of pulling it all together can be somewhat overwhelming. SheKnows asked two professionals to share their tips for creating an impressive portrait display the whole family will love!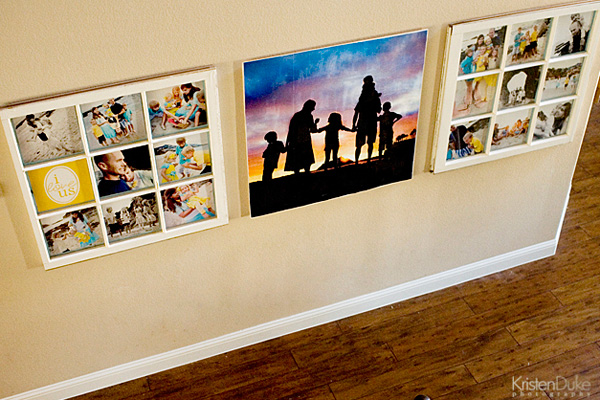 Determine the display location
First -things-first, choose the wall space you'll be working with. Select an area in your home that receives a lot of traffic throughout the day. When selecting the perfect location for your portrait display, ask yourself these questions:
Where does my family spend the most time in my home?
What areas will guests see when they are in my home?
What rooms do family members pass through most in my home?
Kristen Duke, of Kristen Duke Photography, chose a highly visible area near the stairs in her home to create this portrait display. She explains, "I believe that having my walls plastered with THEM and US is a constant reminder to my children that they are loved, immeasurably."
Once you've determined the location for your display, find inspiring images to build ideas! Shelley, from House of Smiths, used Pinterest.com and magazines to stockpile ideas for her gallery wall. "I knew that I wanted a specific look when designing our gallery wall," she describes, "so whenever I found a picture wall that had elements I liked, I 'pinned' it, or tore the photo out of a catalog or magazine to use it once it was time to design the portrait wall in my own space."
Before snapping a shot, take some time to evaluate your home's décor — particularly the room the display will be located in. Shelley recommends, "If your home is full of bright airy colors like whites, blues and greens... you probably don't want to display photos of your family wearing fall colors like red, orange and dark brown. Think of your gallery wall as a huge piece of art, instead of tiny individual pieces."
Don't assume you're limited to just frames — the sky is the limit when it comes to gallery-style displays. Kristen likes to get creative in her home, and recommends the following options:
Mounting prints to canvas
Using Mod Podge to adhere prints to wood
Printing images on metal
Filling a vintage window pane with prints 
When you've determined what option works best for your display, take some time for a sample run. "Use paper templates to lay out the design on the wall first," Shelley recommends, "This makes for a lot less guess work when trying to decide where your frames or other gallery wall items should go. Playing with different layout options is a lot easier when you're moving around light pieces of paper only shaped like your objects, verses heavy frames, mirrors or other decor."