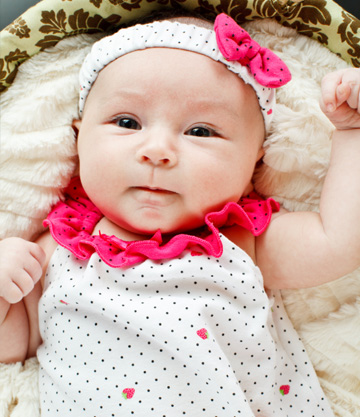 Pretty baby names for girls
Are you looking for a baby name that is as pretty as you know your baby girl will be? From beautiful flower names to long romantic names and feminine old-fashioned names, check out our pick of 50 pretty baby names for girls.
Many of today's parents are picking feminine baby names over unisex names, such as Cameron or Casey, for their baby girls. After all, sugar and spice and everything nice, that's what little girls are made of! If you want a baby name that is pretty and feminine, check out our picks below of top 50 pretty baby names for girls.
Flower baby girl names
These flower baby girl names are as feminine and pretty as the flowers themselves. Consider naming your daughter after a flower that has a special meaning to you. If you are having twins or having sibling daughters, it might be fun to name all the girls in your family flower baby names. Celebrity chef Jamie Oliver followed this floral baby name theme when naming his daughters, Petal Blossom Rainbow, Daisy Boo Pamela and Poppy Honey Rosie.
Old-fashioned pretty baby girl names
There is something girly and quirky about these beautiful old-fashioned names. They are classic and never go out of style, so you don't have to worry about them being too trendy. Be inspired by a simpler time with these old-fashioned baby girl names.
Take a look at your own family tree and see what wonderful old-fashioned family names can be passed on to your daughter. You may find a gem that is not only beautiful, but meaningful as well.
Romantic & pretty baby girl names
These names are inspired by romantic destinations, romantic characters of the past and names that just sound like they should be in a great romance novel. They are pretty, feminine and perfect for your little darling girl.
Tips for finding a pretty baby name
If you are still searching for the perfect pretty girls name, why not consider searching for names straight from the romance languages? You can use our Advanced Baby Name Search to narrow down your choices to French baby names, Spanish baby names or Italian baby names, for example.
Think about your favorite characters from romance novels or movies for inspiration when searching for a pretty baby name. You can even think of objects you think are pretty and determine if this could be translated into a romantic and unique name.
Click the banner below to find baby names for girls with great meanings.

More pretty baby name ideas
All-American girl names: The new classics
The hottest new baby girl names of 2013
Cool celebrity baby girl names