Halloween Inspired
Baby Names
If you are expecting a baby in the month of October or simply like unique baby names with an edge, check out our list of spooky (yet totally cool!) baby girl names and baby boy names.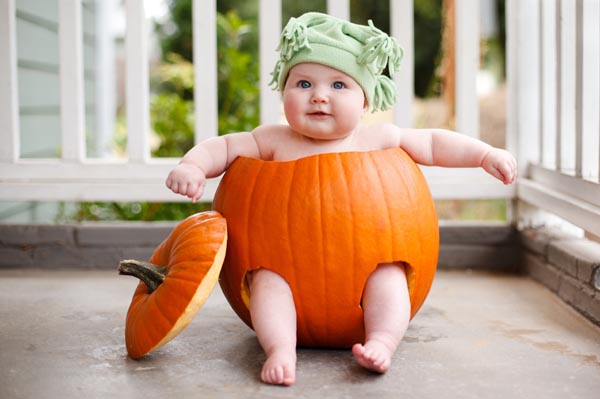 Don't settle for a boring baby name when you have these unique and cool baby names to choose from. These names have a dark edge to them -- making them perfect for your baby born this Halloween month.
Spooky character names
Some of our favorite characters from scary movies and TV shows have great name! Check out a few of our top picks:
Halloween-inspired girl names
Blair -- A Blair Witch Project
Regan -- The Exorcist
Buffy -- Buffy the Vampire Slayer
Elvira -- the famous "mistress of the dark"
Morticia -- The Addams Family
Phantom -- scary ghost
Eric -- vampire from True Blood
Rosemary -- Rosemary's Baby
Sookie -- True Blood character
Carrie -- Steven King classic book and movie
Get more girl names and meanings here >>
Halloween-inspired boy names
Damien -- The Omen
Darth -- Darth Vader from Star Wars
Voldemort -- Harry Potter
Casper -- "The Friendly Ghost"
Chuckie -- Child's Play
Freddy -- Nightmare on Elm Street
Malachi -- Children of the Corn
Norman -- Norman Bates in Psycho
Cole -- The Sixth Sense
Get more baby boy names here >>
Baby names with spooky meanings
If you want a spooky baby name that isn't associated with a horror movie character, check out the following names that all have unique and edgy meanings.
The following baby girl names all mean "dark," which would also be perfect if you are having a dark-haired baby. Check out the dark and spooky names and their origins below:
Adreana -- Italian name
Ciarda -- Gaelic name
Darcey -- Irish name
Delia -- Welsh baby name
Melaina -- French name
Brunetta -- Italian name meaning, "dark haired"
Zilla -- Hebrew name meaning, "shadow"
The following Halloween-inspired boy names have meanings that also mean "dark:"
Adrian -- German name
Black -- English name
Dany -- Gaelic name
Kearne -- Irish name
Kyran -- Irish name
Girl names with an edge
This list of girl names has a cool edge to them. From Shadow to Raven to unique X and Z names, check out some of our favorite dark and mysterious baby girl names:
Shadow
Raven
Echo
Tempest
Winter
Zuri
Zara
Xena
Xandra
Zalika
Also check out modern names for girls >>
Boy names with an edge
These edgy boy names are unique and fun -- perfect for your October baby. Names with X and Z have instant credo as being dark and mysterious. Check out our top picks below:
Jinx
Draco
Wolf
Draven
Thorn
Xavier
Jax
Zane
Zander
Axel
Zephyr
Lastly, the boy name Ohanzee is a Native American name meaning "shadow."
Also check out modern names for boys >>
Get more baby name ideas
Twin girl names: Popular and unique ideas
Cool baby name themes
Cool celebrity baby names