Best Halloween
Family Flicks
Spook yourself silly with this roundup of the best Halloween movies for kids of all ages.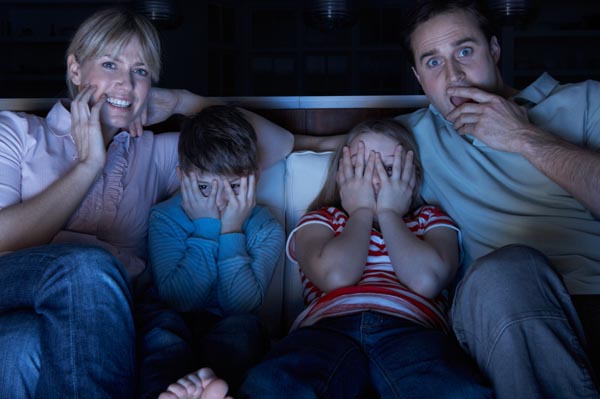 Preschoolers
It's the Great Pumpkin, Charlie Brown
Don't miss this Halloween classic with all of your favorite characters from the Peanuts gang while they wait for an appearance from the Great Pumpkin.
Barney's Halloween Party
Join everyone's favorite purple dinosaur for a Halloween party full of oodles of preschool fun. Go trick-or-treating, play games and make silly Halloween crafts that are sure to tickle your toddler's funny bone!
Pooh's Heffalump Halloween Movie
Go deep into the Hundred Acre Woods for this exciting Halloween adventure with Winnie the Pooh and the gang while they take Roo's new Heffalump friend trick-or-treating for the very first time.
Dora's Halloween Parade
Celebrate this Halloween with all your favorite characters from Dora the Explorer. Join Dora, Boots and Little Monster for some not-so-scary fun during their nighttime Halloween adventures.
Sesame Street - A Magical Halloween Adventure
You can't go wrong with every toddler and preschooler's favorite show, Sesame Street. Featuring all characters from the beloved show, the cast has many Halloween adventures guaranteed to not be scary.
---
Elementary schoolers
Scooby-Doo
In this full-length feature film from 2002, the Scooby-Doo gang is broken up until they are all separately invited to Spooky Island to solve a mystery. Help the gang uncover the spooky secrets of the island while they discover how much they really do need each other, once again.
Monsters, Inc.
Have a monstrously good time watching this hilarious and mildly spooky film about two loveable monsters who accidentally get involved in a mix-up with a human child who gets trapped in the monster world.
Wallace & Gromit: The Curse of the Were-Rabbit
Wallace and Gromit are at it again in this adorable clay-mation film where they try to discover the sneaky beast that is causing trouble all over town by eating up all the goodies in everyone's vegetable gardens.
Monster House
Is there such a thing as a real haunted house? Watch what happens when several kids discover a Monster House right in their own neighborhood and get entangled in a spooky adventure.
Mickey's House of Villains
The villains from our favorite Disney movies have plans to take over the House of Mouse. Jafar, Captain Hook, Cruella de Vil and Ursula are among the characters that we love to hate — and make this an excellent choice for Halloween time.
---
Tweens
E.T. The Extra-Terrestrial
It's almost Halloween when Elliot discovers a creature from another planet that was accidentally left behind when his ship visited Earth. Kids and adults alike will fall in love with this incredible movie that portrays the deep bond that develops between this young boy and his extra-terrestrial friend.
The Nightmare Before Christmas
Jack Skellington, the Pumpkin King of Halloweenland, is bored and is beginning to feel like life is meaningless until the day he discovers Christmastown. Find out what happens when he tries to get the creatures in his world to put on Christmas instead of Halloween.
Haunted Mansion
When workaholic Jim Evers (Eddie Murphy) takes his family away on a business/family trip to an old New Orleans mansion, they discover the house is haunted by 999 ghosts.
Ghostbusters
Don't forget to introduce your tweens to this hilarious classic film from the '80s with the goofy gang of Ghostbusters who do everything in their power to destroy the ghouls that are haunting New York City.
Corpse Bride
From the mastermind Tim Burton comes this chillingly adorable movie about a bride who rises from the grave assuming a young man has married her.
---
Teens
Harry Potter
Fall in love watching the magic, mystery and special effects of this incredible fantasy adventure based on the novels of J.K. Rowling. The entire eight-part Harry Potter series is perfect for teens of all ages.
Halloweentown
What happens when your grandma reveals that she is actually a witch and that you and your siblings have magical powers? Find out in the thrilling Halloweentown where Grandma Aggie must battle to protect the children from a warlock who wants to turn the kids into zombies.
Gremlins
The rules were clear: "Don't expose him to bright light. Don't ever get him wet. And don't ever, ever feed him after midnight." But no one obeyed them. Watch what happens when an adorable but mischievous Christmas pet "Mogwai" becomes something else and turns the whole town upside down in this mild horror film.
Hocus Pocus
Your teens will get a scream out of this hilarious classic Halloween film in which three evil sister witches are resurrected after 300 years on Halloween night and it's left to a group of teenagers to defeat the wicked trio.
Coraline
You might want to keep the little ones away from this movie about a young girl who finds a gateway to a home that is just like her own — except for a few sinister secrets. Perfect for older kids who aren't easily creeped out by button eyes!
---
More Halloween fun
5 Fun Halloween activities for the whole family
The ultimate Halloween costume guide
5 Tips for Baby's first Halloween: Fun, not frightful