New Mom Essentials To Pack For The Hospital
Your hospital bag is going to be your lifeline to normality for the two to three days that you will be staying there. Chances are you have all the little things packed and ready to go for baby, but don't forget about you and your needs! Read on for 10 hospital bag essentials for you.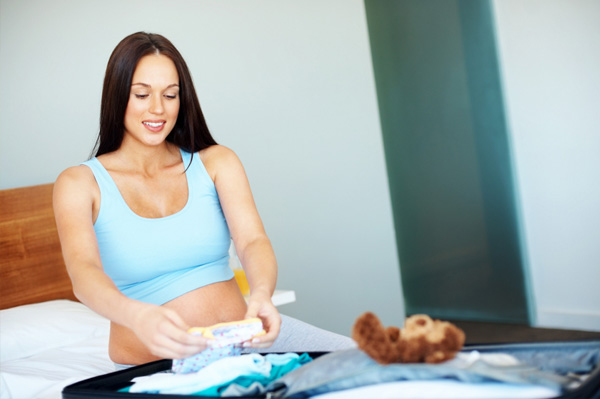 Your own pillow
Hospital pillows are puny and uncomfortable. Bring along your own pillow, buying a plastic wrap and cheap case if you feel the need. Having this little comfort from home will make the transition just a little bit more cozy.
Comfortable clothing
Bring along a comfy pair of pajamas and a robe. Also pack some loose "granny" panties. The mesh one-size-fits-all underwear suit some's fancy, but to others having another option is not a bad idea. Your body will be in quite the transition and as well, so don't bring along anything that you will be devastated to have ruined.
Cameras and accesories
This is truly a once-in-a-lifetime moment. Make sure to keep your camera, video camera, chargers, spare batteries and memory card ready to go. Go through and make sure the settings are all correct as well, as many times if others are snapping shots for you they won't think to check that the camera is on the best setting.
Phone chargers
You will have the hospital phone, but in this day and age your cell phone is likely your quickest and easiest access to friends and family.
Basic toiletries
Especially if you have family and friends coming to visit you and your new baby, you are likely going to want to at least give the appearance of normal even if you are feeling far from it. No need to bring your whole makeup table with you, but even just your own toothbrush, brush and hair-tie will make you feel wonderful.
Lip balm
It's a small thing that will do wonders for you. Between your limited liquids and heavy breathing, your lips will thank you for remembering them
Snacks
Small lollipops and candies that can be sucked on are great little boosts while in labor. Pack light little snacks for after baby comes as hospital food may not be the thing you are most craving. Don't forget to have your partner pack some for themselves too. The last thing you will probably want to see is them scarfing down lunch while you are limited to ice chips!
Boppy pillow and other nursing essentials
If you are planning on breastfeeding your newborn,  these first couple of days can be critical to ensuring a healthy start to the relationship. A Boppy or breastfeeding positioning pillow can be very helpful. Nursing bras or tanks will help keep access quick and easy. Bring along a tube of lansinoh or nipple butter to help as your nipples can become sensitive for the first couple of weeks.
Reading material or other forms of entertainment
Your hospital may offer free wi-fi, if that is the case bring along your laptop if you like. Otherwise bring along some books, magazines, handheld games, etc to help kill time during labor and the quiet visitor-less, sleeping newborn moments after delivery.
A coming home outfit- for you
Pack something comfortable and loose, something that you may have worn during your first trimester or early second.
More tips for new moms
Important nutrients for new moms
Caring for your body after baby
5-Step weight loss plan for new moms