Saving From
The Start
Teaching your children to save money may seem tricky, but by starting early and keeping it simple, you can make the learning experience fun and rewarding for them. Find out how you can teach your kids to start saving now.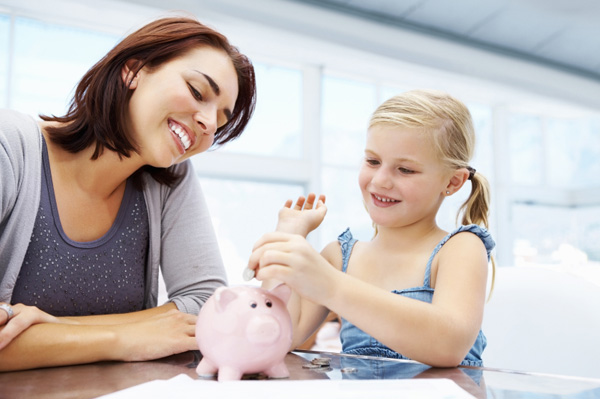 The piggy bank
Preschoolers and primary school-aged kids can benefit from using a piggy bank. It's a fun toy and great teaching tool for parents. Two piggy banks, designated as saving and spending, are even better. Birthday and other money gifts can be split between the two banks.
Children this age don't comprehend a long time frame, so saving for college, while a worthy goal, won't seem realistic for them. They will better understand saving for something special: a purchase at the dollar store or a special toy. Attach a picture of an item the child wants to the spending piggy bank as a reminder of the goal.
When the child is older, she can use the money from the saving piggy bank to open a bank account. That opens a whole new opportunity to teach her about saving, banks and interest.
Allowances
Elementary and middle school-aged children have a more mature understanding of money; they are aware of what it can buy and are able to plan further into the future. Once you begin giving the child an allowance, do so with the requirement that he use it to pay for certain purchases -- perhaps entertainment or trips to the mall -- thus giving him an immediate incentive to save. You can divvy up the allowance, reserving a certain amount for spending and another to save for longer-term goals. You might even want to encourage them to save by matching what they put aside in long-term savings with a bonus percentage -- your own family version of a 401K. Kids enjoy saving for what they want, so when the spend fund is ready, allow them to make their purchase and enjoy the rewards of their efforts.
Goals
Let kids track their savings progress visually. Fill in a drawing of an empty thermometer as they save. They'll be excited to add funds and track the money. Older children can have bank savings accounts and track their savings and interest online or with bank statements. Keep your own piggy bank and let the kids see you contribute, or allow them to accompany you when you make bank deposits to your savings account. They will learn to model your savings habits. Explain to them why saving money is an important and responsible thing to do. Always praise the child for her efforts in saving and her good spending habits.
Encourage your child to identify fun things to spend her money on. Starting early can help her learn to prioritize and to understand why she is saving. She'll also learn the rewards of saving and the satisfaction of achieving a monetary goal... valuable life lessons to carry with her as she matures.
More savings tips for kids
Tips for parents: Teach kids to save
5 Ways to teach your children to save
How to teach kids about saving money and budgets