Invest In A
Family Vacation
The family vacation is not an obligation... it's a privilege. Here's why you should invest the time and money into this all-important tradition.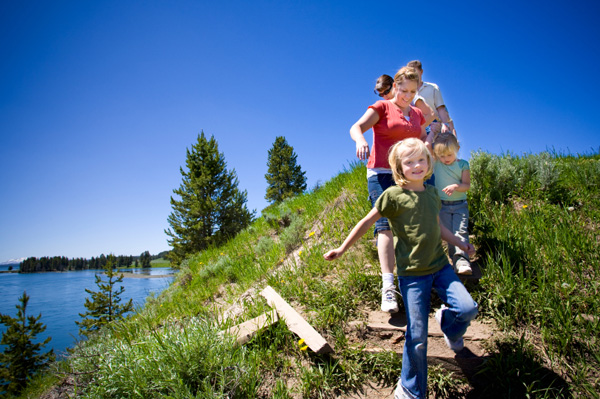 The happiest families have rituals, including familiar vacation spots that create and sustain happy memories, says happiness expert Caroline Adams Miller, author of Creating Your Best Life.
Us... not me
As individual members of a family, we can be unintentionally self-centered. The adults are focused on work and bills, housekeeping and childrearing, and the kids are caught up in school, homework and activities. Family vacations give us a chance to leave all that behind. When we're not distracted by the day-to-day stuff that keeps us oh-so-busy, we can reprioritize and concentrate on one another instead. Your family is together for the duration of the trip – in the car, ship or plane, in the hotel or tent, at the park or museum – so make the most of it. Learn to talk, laugh and enjoy each other's company without the regular distractions of your busy home life.
| | |
| --- | --- |
| | Ask each family member what their favorite activities were during past vacations, and what favorite memories they created, says Miller. It's a great place to begin to sift through possibilities. |

A learning experience
No matter where you go, your children (and you!) will find opportunities to learn new things. Family vacations present delightful opportunities to learn about different cultures, food and climates. Perhaps your family is visiting Italy, or maybe you're visiting a tiny version of the country at Disney World's Epcot. Either way, there's so much to see and learn, and getting an education while vacationing with family is a lot more fun than sitting in the classroom!
During vacations, try to incorporate the accomplishment of each family member, says Miller, whose son has a passion for baseball. "My son wants to visit every baseball park in the country, so we try to hit a new baseball park on every single vacation."
A moment in time
Your kids won't be young forever, so enjoy every moment while you can. Each vacation your family takes essentially freezes that moment in time. Your child will always remember "visiting the Grand Canyon when I was 8-years-old," and you'll always remember your 5-year-old's expression when he saw the ocean for the first time. Every trip you take contributes to the person your child becomes, so contribute regularly.
A change of scenery
When you wake up in a different place, you don't automatically fall into the daily drudgery of a routine. A change of scenery is rejuvenating. New places bring new experiences, and that's exciting. Each day your family can explore something new... together. And, believe it or not, when your vacation comes to an end, you'll be happy to return to your familiar home. Absence makes the heart grow fonder, and there's no place like home.
More family travel tips
8 Hints for a happy family vacation
Top 10 Family travel must-haves
7 Unique family vacation destinations
6 Active family vacation ideas