Great Getaways
For Active Families
Not every family goes on vacation to relax. Keep your active bunch busy on one of these exciting family trips.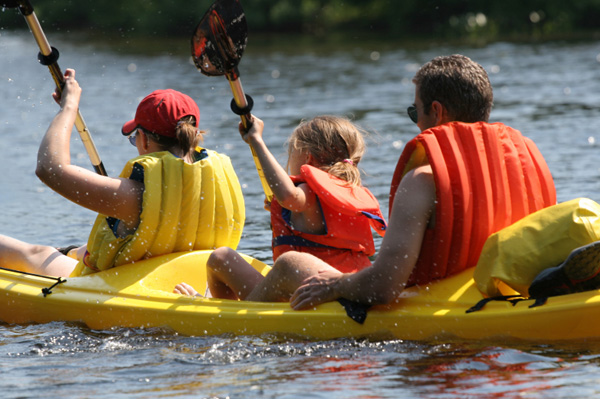 Active family vacations often involve the outdoors and some type of risk-taking, both of which are proven to be important well-being boosters, says Caroline Adams Miller, happiness expert and author of Creating Your Best Life.
Multi-sport vacations
There's active, then there's really active. How much action can your family handle in one vacation? The World Outdoors, "the pioneer of the multisport trip concept," features three or more of the best activities an area has to offer. Vacations include hiking, mountain biking, whitewater rafting, sea kayaking, rock climbing, snorkeling, scuba diving and canyoneering. Experienced instructors are on hand for beginners, and tours are available for experts, too.
| | |
| --- | --- |
| | Spending as little as 20 minutes in the outdoors has been found to boost vitality levels, says Miller. Even children with ADHD improve when disconnected from technology and doing something active in the outdoors, like camping and hiking. |
8 Hints for a happy family vacation >>

Volunteer vacations
Commit your family's energy to a good cause with a volunteer vacation. There are so many things we can do to make the world a better place, and you'll discover that helping others brings your family closer together.
Global Volunteers can lead your family to a "significant community project for a week of service, learning and fun" with people of a different culture.
Habitat for Humanity offers a myriad of volunteer vacations that promise "significant recreation with reasonable perspiration, and ultimately, recreation rewarded by inspiration."
The American Red Cross depends on volunteers to help victims of natural disasters and others in need and will match your family's "knowledge, skills, interests and experience" with opportunities to serve.
Top 10 Family travel must-haves >>
EcoTourism vacation
Whether it's touring the rain forests of the Amazon or observing blue-footed booies in the Galapagos Islands, an ecotourism family vacation is full of what educators call teachable moments, which are wonderful unplanned opportunities to explain a concept that has captured a child's interest, says Irene Lane of Greenloons, an ecotourism service.
Lane says an ecotourism vacation experience offers: 
Instruction about indigenous wildlife
Increased awareness about environmental degradation
Involvement with conservation efforts
Focus on the depletion of natural resources
Exposure to cultural experiences
Inspiration for a life's passion
7 Unique family vacation destinations >>
Dude ranch vacations
Up for a little cattle wrangling? Take your next vacation at a dude ranch. Your entire family will enjoy taking part in a modern version of Old West: horseback riding, hiking, petting zoos, skeet shooting, cooking classes and more. Look for dude ranch associations online and plan your visit to a working ranch in Montana, Colorado, Idaho, Wyoming or Arizona (Bonus: You don't have to kill your own food!).
Naturalist vacations
What better way to experience the great outdoors than with a naturalist? Yellowstone National Park will set up your adventure-loving family with a naturalist to guide you on a 3-day/3-night vacation. Your personal naturalist will show you how to make the most of your trip by wildlife watching, animal tracking, hiking and more. Yellowstone boasts geysers and hot pools, grizzly bears and bison. Is that active enough for you?
5 Easy family vacation ideas >>
Watersports vacations
Calling all active families: Watersports vacations are not for beach bums. Learn family teamwork paddling a canoe on ocean waves. Or take turns paddleboarding or surfing. Test your water skills with snorkeling, sailing, diving and anything else that doesn't involve land. Outrigger Reef on the Beach in Honolulu is a great place to start...
Bottom line: Any type of physical activity is scientifically found to boost happiness, says Miller. Bonus: Your family is creating memories -- happy memories -- too.
More family vacation tips
Best family vacation spots for teens
Best family vacation spots for toddlers
Plan a stress-free family vacation