Favorite Family
Cruise Spots
When you're cruising with the whole gang, you want to ensure that your destination has something fun and interesting for everyone in your family. Check out this list of the best family-cruise destinations.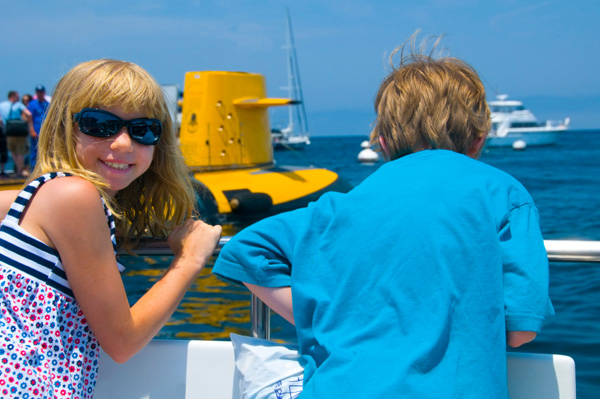 Head to Hawaii
Todd Smith, small ship cruise expert and founder of AdventureSmith Explorations, suggests his company's Hawaiian Seascapes cruise. He says of this island destination, "Not only does it have incredible beaches, hiking, authentic culture and whale watching, it's close to home (no passports required). There are dedicated family departures that offer child discounts and cater exclusively to travelers with kids." To avoid air travel, Dwain Wall, senior vice president and general manager of CruiseOne, suggests West Coast dwellers take advantage of cruises leaving from the West Coast to the Hawaiian Islands.
Close-to-home cruises
Wall adds, "With a number of US ports close to home, the best family-cruise destinations may be the ones you don't need to fly to. On the East Coast, travelers can take advantage of Caribbean and Canada/New England itineraries, while families on the West Coast can easily cruise to Mexico, Hawaii or Alaska. There are also cruises sailing from the Gulf Coast to the Caribbean and Mexico."
Galapagos Islands
Smith suggests the Galapagos for wildlife-loving families. "By far, the most extraordinary wildlife viewing and encounter opportunity in the world would be a small-ship cruise in the Galapagos Islands," he said. "Here, you are guaranteed up-close encounters with wildlife that has no fear of humans. There's a huge selection of small ships and yachts for every style and budget. Child discounts and family-dedicated departures are available during summer, Christmas and Easter holidays."
Alaska
Another adventure in wildlife observation can be experienced in Alaska. Smith says, "It is a great way to introduce your kids to true wilderness with up-close exploration in the company of expert naturalist guides. Families will observe an incredible array of wildlife (whales, sea lions, seals, porpoise, bears, moose, wolves, eagles and other birds), massive glaciers, rugged mountains, temperate rain forest and more."
G-day, down under!
Irene Lane, president of Greenloons, suggests Australia as a must-see family destination. She notes, "The eco-certified Coral Princess allows you to choose from various itineraries and you'll experience an educational, expedition-style journey through the Great Barrier Reef in style."
Soak up some culture
Lane suggests Asia "if you are looking for a less-crowded alternative to the major cruise lines." She adds, "Consider the Green Slow Boat on the Mekong from Thailand to Laos, which is operated by a company that contributes to the schools of the hill-tribe villages where the boat stops along the way. It also participates in green activities such as organic gardening, energy-efficient lighting and hot water, composting and recycling." If your family has taken an interest in green living and worldwide culture, this may be just the cruise for them.
Charter your own path
If your family just can't agree on a commercial cruise destination, why not charter your own yacht and determine your journey – and your cruise experience – yourself. Ulla Gotfredsen with Amazing Charters says, "Most people are thinking about cruise ships when they talk about cruising, but you can actually charter you own yacht for the same price as a good cruise ship and decide the size of the boat, the crew, the water toys, itinerary, menu and everything else."
She adds, "The luxury-crewed yachts of the world are probably the best-kept secret of the travel industry and offer you an unprecedented potential for a different kind of vacation. It is ideal for families, because there are so many different activities and a crew who is more than happy to help you and play with the kids/teenagers!"
More travel tips
8 Bucket-list travel experiences
7 Tips for budget-friendly travel
How to prep for your next trip abroad
More tips for parents of teens
How to help teens adjust to a new school
What to do when a teen loses a friend
Helping teens form real friendships