The Kids
Are Watching!
Encourage healthy habits by sharing breakfast with your kids.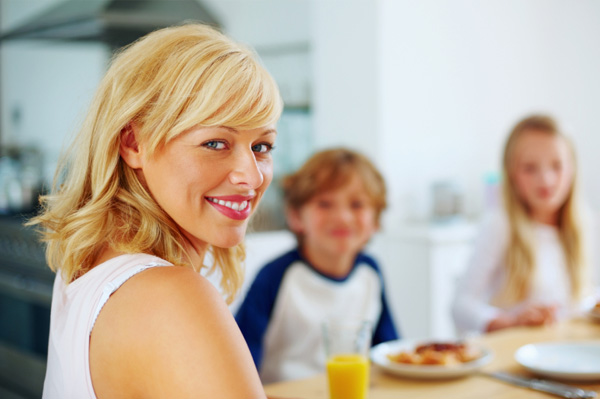 Are you modeling healthy habits for your children? Health promotion begins one individual at a time, and mothers are the gatekeepers of the good habits within a family. From the food you select at the grocery store to meal preparation and encouraging physical activities, mom's behavior is a signal to the kids about making good choices. Your child is observing, and your choices should be setting up your child to live a healthy lifestyle.
Time crunch
No time for breakfast? The morning rush -- getting ready for work and school -- is usually a chaotic time for most families, but kids need a healthy breakfast, and so do their moms! Eating breakfast helps with weight control -- you're less likely to fill up on calorie-laden snacks later in the day when hunger hits, and breakfast boosts your concentration throughout the day. A good breakfast stimulates your metabolism, waking it up from the energy-saving mode it goes into during sleeping hours. To function at your best, you need breakfast and so do those growing children. You can't expect them to enthusiastically eat a good breakfast if you don't.
Plan ahead
Keep your kitchen stocked with easy-prep breakfast items. Whole grains are an excellent source of vitamins and minerals, have healthy fiber content and low trans fats. Whole grain cereals make a good and quick breakfast... slice some fruit or add berries, sprinkle with cinnamon (a powerful antioxidant that tastes great) and soy or low-fat milk. Whole grain bagels, toast and waffles are other smart morning choices: top with fruit, peanut butter or low-fat cream cheese. Bran muffins with honey can be a grab-and-go breakfast on those especially hectic mornings. Small and simple changes -- having a variety of breakfast choices, getting up just 10 minutes earlier to make time -- will model for your children how important starting the day in a healthy way truly is.
Make it a habit
Demonstrating a healthy lifestyle makes mom the role model. Your children are watching your eating habits and will learn to mimic them. Discuss the importance of starting the day with a healthy breakfast with your kids; even small children will understand that mom loves them and wants the best foods so they'll always feel good and grow strong. Older children can comprehend the importance of less salt and fat, and more protein and fiber. They'll all understand that mom wants them to feel great, have energy, and be healthy and happy. And once you've explained, live by example. Have breakfast together as often as possible so your children can see that you practice what you preach! Make it an everyday family habit... everyone eats breakfast.
Adopting a healthy lifestyle for the family is a primary concern to women. The best encouragement for making healthy changes is through example. Your children look to you for signals on appropriate choices and behaviors. A breakfast-table role model is a great start to the day!
More breakfast ideas
5 Breakfast recipes both Mom and kids will love
5 Ways to get kids to eat breakfast
7 Brain-boosting breakfast ideas for kids
More From SheKnows Explorer