"But It's Not
My Fault!"
As a parent, aren't you amazed by the fact that kids are able to easily absorb some lessons while others take a little…prodding? Teaching responsibility often falls into the latter category. Find out why.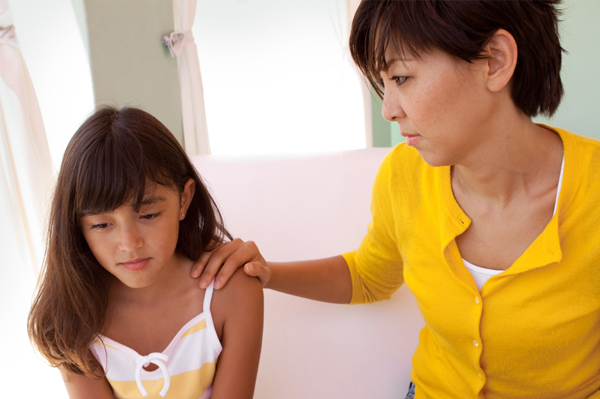 Perhaps the biggest obstacle to teaching responsibility is our culture. While the world constantly provides kids with opportunities to evade responsibility, parents struggle to keep them on track. Fortunately, these efforts seem to pay off in the long run.
It's (not) all about you
Kids today are bombarded by information constantly. They are pressured to pump their social networks full of personal information on a daily basis. This process often skews their perspective and creates an environment of instant gratification. The concept of long-term goals is pretty foreign when all you want to do is Tweet about every mundane detail of your day.
"It's as if the fantasy world created by technology has become their reality," says Jay Fitter, family therapist and author of Respect Your Children: A Practical Guide to Practical Parenting. "As parents, you owe it to your children to prepare them for life." While their "friends" may be interested in their actions, the world is just waiting to dish out consequences. That being said, real life does not revolve around their every move, which is a sometimes harsh but crucial message.
Responsibility is power
Many parents are tempted to take responsibility for their children's actions in order to protect them, but doing so does just the opposite. "When kids learn to take responsibility, they are empowered, competent and resilient, that they can take on the real world in an authentic way," says Dr. John Duffy, a clinical psychologist and author of The Available Parent: Radical Optimism for Raising Teens and Tweens. "We rob them whenever we take responsibility for their actions ourselves. It may prove us competent, but it does nothing to raise the esteem of the child."
Life lessons
Is teaching your kids to take responsibility easy? Of course not, but successful parenting is rarely easy. Still, this is one lesson you don't want to ignore. "If they fail to learn the responsibility lesson, kids have a very hard time transitioning into adulthood," says Dr. Duffy. "Many feel wholly disempowered and incompetent, in work and other areas of their lives, because of their lack of practice taking responsibility earlier in their lives. This is no small thing, as for many adults it leads to a lifetime failing to meet potential, which often results in feelings of depression and anxiety."
Consequences
There are entire parenting philosophies dedicated, at least in part, to raising responsible kids. For example, the Love and Logic approach, which emphasizes learning through consequences. Natural consequences are perhaps the best tools available to teach responsibility. Consequences are less painful during childhood when the stakes aren't quite as high as they are in adulthood.
| | |
| --- | --- |
| | "By being consistent with our expectations and communicating those expectations effectively, we can hold children accountable using logical consequences," says Fitter. "In other words, the consequence must be directly related to the problem. Parents should not shield or protect their children from the results of their poor choices." |
More about teaching responsibility
7 Tips for teaching your child responsibility
Teaching responsibility
Teaching kids responsibility at school