You Wish It Was
Spiders Now
Was your son afraid of spiders when he was little? Did he (mostly) outgrow it? Did you ever laugh with a girlfriend, expressing relief at not having to manage that little fear, those crazy kid emotions? Well, karmic justice being what it is, those fears aren't over. In fact, your child may have some bigger ones brewing. Your teen, in particular, may be dealing with weighty fears about life in general — and they are some of the same fears you may have in life: fear of not achieving happiness, meeting expectations, reaching "success" or just figuring the whole adult life thing out. You wish it was just a fear of spiders!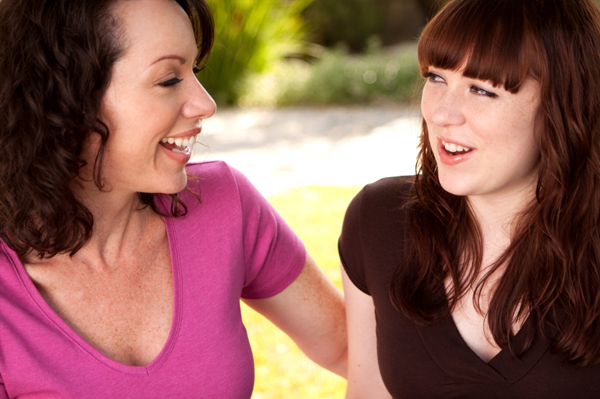 No age or stage is immune to fear. The general roller coaster of the teen years have them, too, and acting out, engaging in the push and pull and other classic teen behaviors can all be representations of their fear. While they may not admit it to you — or even to themselves — adolescent life can be scary. They still need your help navigating this roller coaster called the teen years. How can you help your child during this time?
Understand the ambivalence and fear
Try to remember back to your own adolescence — it was a scary time. Neither a child nor an adult, expectations seemed to be increasing exponentially. The "real" world was an unknown hurtling toward you at a very uncomfortable pace while the safety of young childhood was becoming more and more distant.
As excited as your child may be for that future, there is an understandable ambivalence — and likely some fear. Your daughter wonders if she's making the right school choices and whether she'll live up to your expectations. Your son is afraid he's not going to be able to pull off that which he has always dreamed of, whether it be athletic or academic.
Reassure, reassure, reassure
You are your child's greatest resource, and he or she needs to be reminded of that. Your teen — who is very much still your child — needs to be reassured that you'll still be back up for them (at least in some way) a little while longer, and that you will always love them.
Amid these unsettled teenage years, your child may be moody and lash out and do all the normal kid things. And he may be a bit fearful of the future, like so many other teens before him. With some understanding and reassurance, you'll both make it through, and those fears may turn into wings.
More on teens and self-confidence
A crisis of confidence: Teenage girls and the risky years
5 Parenting mistakes that can screw up your teen
Confidence: Help your child gain confidence