Cell Phone Plans
For Your Family
In the past, a child having a cell phone was unheard of; now, it's almost expected. Children as young as kindergarten are carrying cellular phones and for tweens and teens cell phones are virtually a must. To save money on your cell phone bill, consider a family share plan.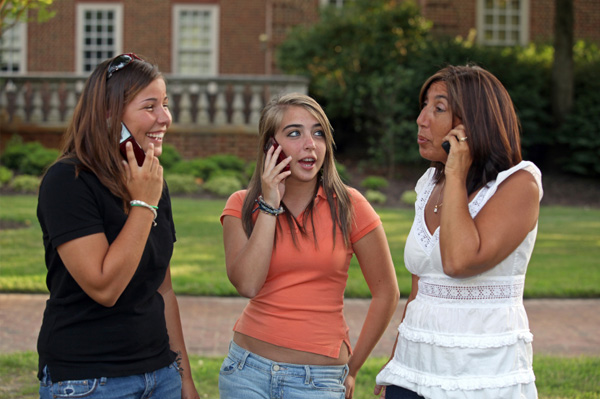 What's a family plan?
Family share plans are joint accounts with the cell phone company that allow you to have one bill and one set of taxes from multiple phones. A basic family share plan allows the family to have two cell phones, each with a different phone number, and a shared number of minutes per month. Families can then add additional phones, lines and minutes onto the plan as necessary.
Which is the right family plan for you?
Though everyone in your family doesn't necessarily need a phone, cell phones are a convenient, affordable way to stay connected and can be real sanity savers. Find a family plan that is right for both your budget and your family's needs.
Best bang for your buck
Whether you currently have a family plan or not, you need to shop around and compare providers to find the best plan for you. When comparing companies, don't just consider the monthly rates; also take into account the cost of adding more phones or more minutes. Ask the provider:
What are the rates if you go over your monthly minutes?
Can you carry over your minutes to the next month?
Are there additional fees for text messages or web access?
Does the plan offer any free mobile-to-mobile minutes?
What is the charge for adding an additional phone line?
Dropped calls and reception
Are you satisfied with your current cell phone provider? If not, shop around. Talk to friends who live in your area to gauge their satisfaction with their cell phone companies. You don't want to add more lines to your current plan if your reception is shoddy and you can't get a hold of your kids when you need to do so.
Find out which cell phone carriers drop more calls >>
Pre-paid plans
If you don't think your child is responsible enough to monitor his or her minutes each month, consider a pre-paid cell phone instead. A pre-paid phone allows you to purchase a certain number of minutes ahead of time. When the minutes run out, your child won't be able to use the phone until you add more. Pre-paid phone plans cost more per minute than other plans, but are an easy way to control spending. Keep in mind, the minutes on most pre-paid phones expire, so if you don't use them, you lose them.
Should your kids have cell phones? Join the debate here >>
Read the fine print
Before signing up for a family plan, truly understand what you are getting for your money. You need to find out if the advertised monthly minutes are really anytime minutes. Some providers will advertise a larger number of minutes, but a big portion of those minutes can only be used on weekdays during the daytime -- when your usage will likely be the lowest.
When choosing a family plan for your cell phones, consider your family's lifestyle, number of phone calls and text messages, and the amount you want to pay each month. With a little research, you can find the right family cell phone plan for you.
More about cell phones
I got my 10-year-old a cell phone
Cell phone safety for kids
The best cell phone features