Fabulous Crafts (Even If You Aren'T Crafty)
St. Patrick's Day is almost here, but it's not too late to do these fun, fabulous crafts with your kids.
Looking for a fun, simple craft for St. Patrick's Day? These easy crafts are perfect for a last-minute project.
Shamrock hangers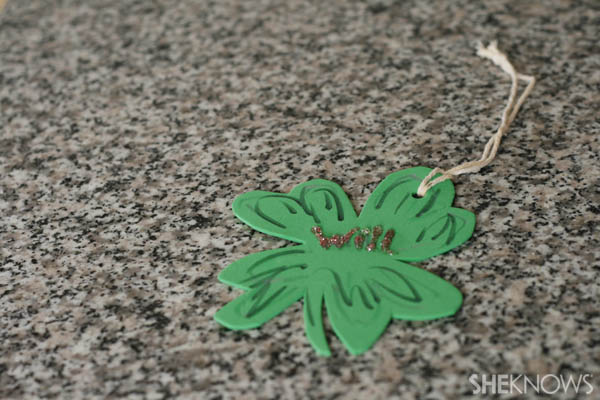 Hang these cute hanging shamrocks from door knobs, window locks or wherever you want to bring some extra luck!
What you'll need:
5x7 foam sheet in green
metallic markers or glitter glue
12-inch string
scissors and a hole punch
What you'll do:
Use the scissors to cut the foam sheet into a shamrock shape. For young children, do this for them. For older kids (5 and up), outline the desired shape and let them do the cutting.
Use the markers and/or glue to decorate the hanger and write the child's name on it. Markers are best for young kids. Also, as an FYI, glitter glue takes a while to dry.
Use the hole punch to punch a hole near the top of the shamrock.
Tie the ends of the string together and then thread the looping portion through the hole in the shamrock. Pull the tied ends through the loop and tighten.
Allow the shamrock hanger to completely dry before hanging.
Pots o' gold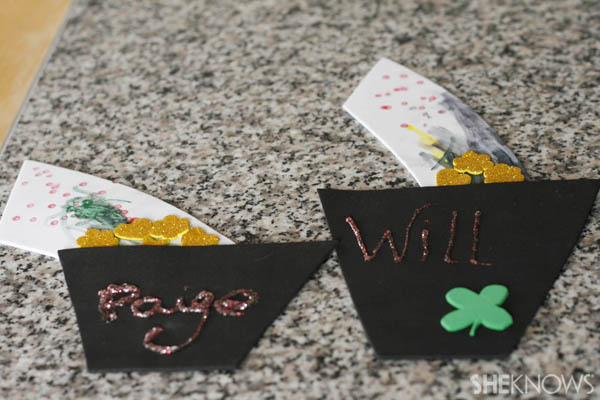 Your kids will love propping these fun personal pots o' gold up on their dressers.
What you'll need:
black foam sheet (5x7)
white foam sheet (5x7)
glittery foam stickers
markers and white school glue
What you'll do:
Cut a pot-like shape out of the black foam sheet (this size should yield 2 pots).
Cut a thick curve out of the white foam sheet (for a rainbow — this size will yield two curves).
Color the curve as desired — it's supposed to be a rainbow, but let the kids go wild with their own designs.
Glue the curve to the black foam sheet (about a 1-inch overlap).
Stick the glittery foam stickers all over to create a gold effect. (Ooh! Treasure!)
If desired, use glitter glue to write the child's name on the pot o' gold.
Rainbow lookers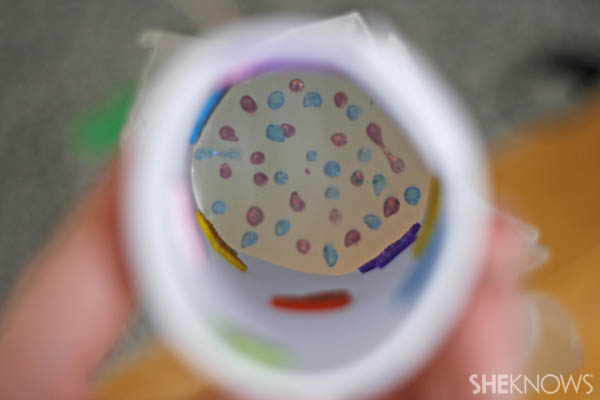 These fun easy tube crafts are reminiscent of kaleidoscopes.
What you'll need:
white foam sheet (5x7)
glittery stickers
waxed paper
glitter glue
rubber band and stapler
What you'll do:
Stick the glittery stickers (in rainbow hues, preferably) all over one side of the white foam sheet, leaving about 1-inch on either side.
Roll the white foam sheet into a tube lengthwise and staple to secure.
Fold the waxed paper into a square and fit over one end of the tube. Secure with the rubber band.
Use glitter glue to draw a design or dot the outside of the waxed paper.
Allow to fully dry before using.
To use, hold the tube up to your eye and face a light source. Turn to see the rainbow hues.
More kids' crafts
3 Fabulous homemade Valentine crafts
4 Summer crafts and activities kids will love
How to create a family crafting stash