Family-Pleasing
Breakfast Ideas
Breakfast is too important to skip, no matter how busy your mornings. Keep it simple by whipping up delicious recipes that both you and your kids will love.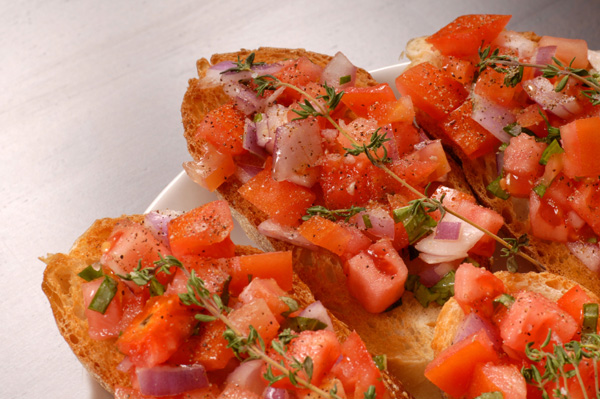 Loaded english muffins
Francesca Pucher is a fitness expert and the founder of Fitness 121 Personal Training. Pucher offers up an easy-to-make breakfast recipe that's loaded with all things healthy for a great start to the day.
Ingredients
1 English muffin
2 eggs, scrambled
1 slice of bacon, cooked
1 slice of cheese, your choice
ketchup
Directions
Scramble eggs to desired doneness.
Toast English Muffin.
To bottom half of the muffin, add the scrambled eggs, bacon, cheese and ketchup, if desired.
Top with the other muffin half and enjoy!
Use leftover muffins for English Muffin Pizza! >>

Orange cinnamon breakfast boost smoothie
The Florida Department of Citrus has tons of great ideas for breakfast recipes both mom and kids love, including this fabulous, 4-ingredient smoothie.
Ingredients
2 cups 100% Florida orange juice
1 cup low-fat vanilla yogurt
1 Florida navel orange, peeled and cut into one-inch chunks
1/2 teaspoon ground cinnamon
Directions
Place all ingredients into a blender and blend until smooth.
Serve immediately or refrigerate.
Apple salad breakfast pizza
The folks at Camp Shane shared this pleasing recipe that appeals to all ages. Camp Shane, the country's longest-running weight loss camp for kids and teens, is well known for yummy, out-of-the-box recipes like this one.
Ingredients
vegetable cooking spray
basic pizza dough (whole wheat is preferable)
2 cups thinly sliced spinach
2 cups red apples, chopped and cored
2 tablespoons lemon juice
1/4 cup raisins
1/4 cup coarsely chopped walnuts
1/4 cup fat-free Cheddar cheese, shredded
1/4 cup crumbled Bleu cheese
Directions
Spray 12-inch pizza pan with cooking spray.
Spread dough on pan, making rim around edge. Arrange spinach on dough.
Sprinkle apples with lemon juice. Combine apples with remaining ingredients and arrange on spinach.
Bake pizza in 435-degree oven for 15-20 minutes or until golden brown.
Everything you ever wanted to know about apples >>
Brainy breakfast burrito
Eggs are the ideal breakfast food -- so good for you! This burrito recipe from Eggland's Best is ready in just 10 minutes and will get your juices flowing and your mind going all day long.
Ingredients
cooking spray
1 large Eggland's Best egg
1 low-fat whole wheat tortilla
1 tablespoon low-fat refried beans
1/4 cup low-fat Cheddar cheese, shredded
2 tablespoons salsa
1/2 avocado, sliced
Directions
Spray non-stick skillet with cooking spray.
Beat eggs, pour into skillet and cook, stirring continually, until slightly set (about 2 minutes).
Add cheese to eggs.
Spread refried beans on tortilla, cover with damp paper towel and microwave for 30 seconds.
Spread egg and cheese filling down the center of the tortilla. Add salsa and sliced avocado.
Fold one side of the tortilla over filling. Fold up bottom. Roll securely. Ole!
Morning Rush Hour Burrito recipe >>
Breakfast bruschetta
Valerie Orsoni, celebrity coach, nutritionist and CEO of LeBootCamp.com, is a busy mom and makes this easy breakfast for her family. They love it, and yours will too.
Ingredients
1 slice whole wheat bread
4 very fine slices of tomato
1 teaspoon olive oil
salt and pepper
Directions
Toast the bread in oven or toaster.
Spread tomato slices on bread.
Drizzle olive oil over tomatoes.
Add salt and pepper to taste.
Love tomatoes? Try Eggs Benedict Over Tomatoes >>
More healthy meal ideas
More From SheKnows Explorer