A+ Breakfast Ideas
It's test day, and your child has studied and prepped for hours on end, but the big question is -- what's for breakfast? According to nutrition experts, skipping breakfast can result in failure to concentrate and focus. Prepare your child for test day by using these important brain food breakfast ideas.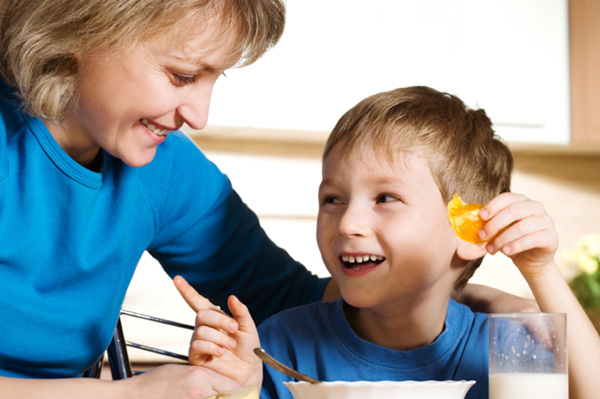 According to Keren Gilbert, MS RD, founder of Decision Nutrition, numerous studies show that kids who start their day off with a healthy breakfast perform better in school. "Children need a fabulous start to their day with the correct balance of protein, complex carbs and brain-boosting nutrients!"
Check out these key ingredients and vitamins that you should include in your child's next test day meal.
Brain-boosting ingredients for test day
Brain food breakfast recipe

Scrambled egg sandwich, from nutritionist Keren Gilbert --
"Serve scrambled eggs mixed with an ounce of cheese on a high-fiber English muffin for a breakfast filled with choline, calcium and fiber."
Omega-3 fatty acids
According to Jennifer Crain, licensed acupuncturist, herbalist and holistic pediatrics specialist, omega-3 fatty acids are important for your child's brain development -- not just on test day, but every day. Crain recommends a high-quality children's fish oil or DHA supplement daily, but especially on a test day.
Another way to ensure your child receives omega-3s is to add walnuts or chia seeds to their breakfast. Gilbert suggests topping French toast with walnuts, while celebrity dietician Ashley Koff, RD, recommends adding chia seeds to a muffin.
Calcium
What's the proper beverage to accompany a healthy breakfast on test day? Milk. Crain says that sufficient calcium is also an important component to optimal brain functioning. Pour a tall glass of milk, or, if your child is sensitive to milk, Crain recommends rice or almond milk enriched with calcium.
Vitamin C
According to Crain, some studies point to correlations between Vitamin B and C and higher intelligence test performance. It makes sense, especially since Vitamin C is required to make brain neurotransmitters. "So, a Vitamin C supplement, or Vitamin C rich food, such as acai berries or juice in a smoothie, or citrus slices (orange, tangerine, ruby red grapefruit) are good additions on test days," Crain said. "A quality multi-vitamin that includes Vitamins B and C is also a good idea, particularly if your child is a fussy eater, or eats a less-than-balanced daily diet."
Choline
Test day involves plenty of memorization and concentration. That's why it's important your child gets plenty of choline. According to Gilbert, it's a vitamin-like substance that's vital for the creation of memory cells, formed deep in our brains. Find it in egg yolks and nuts.
Protein
Help your child stay focused longer with a protein-rich breakfast for test day. Gilbert recommends serving a high-fiber pita with natural peanut butter and sliced banana. "This is a quick breakfast with the right ratio of carbs and protein, plus peanut butter contains choline," she said.
Also, when including yogurt in your child's test day breakfast, Koff recommends opting for plain organic Greek yogurt, which is lower in carbs and higher in protein than regular yogurts.
Ingredients to avoid
Now that you know which key ingredients to look for when planning your breakfast menu for test day, find out which ingredients to avoid.
Most importantly, Crain recommends keeping sugar-intake low and breakfast light on test days to avoid an energy rush and crash (or just a crash).
Health and fitness consultant and author of BodyInstinct – 6 Week Total Transformation Program, Tari Rose, suggests avoiding juice or sugary cereal on test day (or any day, for that matter!). Instead, Rose recommends looking for a cereal that meets the following criteria:
3 or more grams of fiber
5 or less grams of sugar
More breakfast ideas for families