Playground Safety
The weather outside is begging for kids to head to the playground, but is it safe? Luckily, covering them in bubble wrap isn't your only option when you head to the park to play. From inspecting playground equipment to detecting unsafe playground behavior, discover these playground safety tips from the U.S. Consumer Product Safety Commission and keep your kids safe.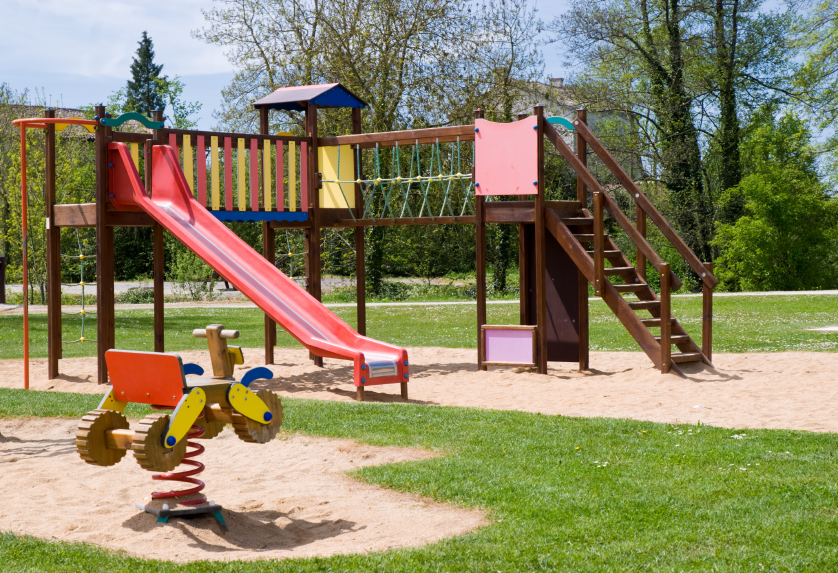 The U.S. Consumer Product Safety Commission (CPSC) estimates more than 200,000 playground-related emergency room-treated injuries occur annually, with falls making up the most common hazard. Sadly, playground-related deaths reported to the Commission involve entanglement of ropes, leashes or clothing, falls and impact from equipment tip-over or structural failure. However, when you follow these playground safety guidelines, you and your brood can focus on fun.
Consider safe clothing guidelines
Before you head out the door, playground safety begins with your child wearing the right clothing. Strap proper footwear onto playground-bound children, such as closed-toe shoes. Avoid loose clothing that can catch on equipment and cause falls or strangulation risks. Plus, note that children should not wear their bicycle helmets on playground equipment -- it can lead to head entrapment in spaces.
Check it out
Whether at the park, in the school yard, or in your backyard, be sure to give the playground a quick onceover. Check that the path to and from the play equipment is clear of hazards, including inspection of playground surfaces like rubber mulch. On the playground itself, check for broken equipment and chipping or peeling paint, and advise your kiddos to steer clear. Although the CPSC's finding on lead poisoning hazard for young children on public playground equipment has encouraged cities to replace lead-based paint, keep an eye on kids under six years old to avoid contact with and ingestion of poisonous chips and dust.
Provide plenty of adult supervision
Keeping an eye on your youngsters at the playground is a given, but extra supervision around hazards such as nearby roads, ponds, streams, and drop-offs should be taken. Be sure that you have clear visibility when you're taking a break from keeping up with your kiddos as well. No one wants to be a wet blanket, but it is your job to put a halt to dangerous horseplay, especially on and around playground equipment.
Watch the weather
The warm weather may be inviting, but the hot sun and metal playground equipment doesn't make a good combination. Skip bare metal slides and steps that are directly exposed to hot sun and opt for playgrounds with ample shade or playground covering from the sun. When heading outside after a spring rain, watch out for puddles and stagnant water that did not properly drain from the playground -- it takes less than two inches of water for a small child to drown.
>>Find more on water safety and other safety tips every parent should know
Talk to your kids
Wondering how to teach your kids playground safety? Before you let your kids step foot on the playground, be sure to layout some ground rules, such as taking turns, using equipment properly and keeping their hands to themselves. Then, put these guidelines for playground safety into action, check out the age recommendations for the play equipment you let your little one explore and enjoy some family fun at the playground!
More about safety