Tradition Of
Quality Time
The family meal is a great opportunity for some quality family time and to slow down the pace of everyday life. Breakfast, lunch or dinner time together is also a perfect time to introduce traditions, whether they are your own traditions or those of others.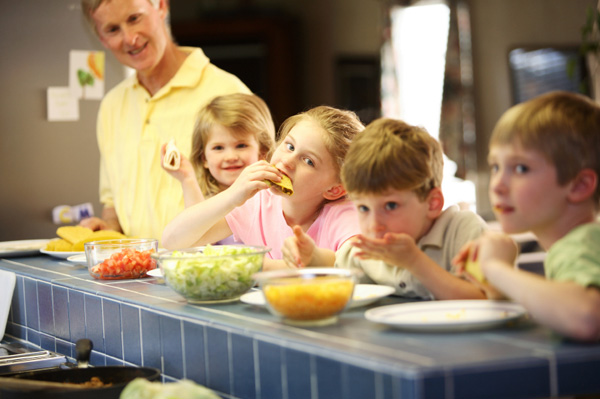 Celebrate the joy of being together and create lasting memories by incorporating others traditions into your family meal.

Talk about other traditions
Between passing the salad and scooping up the potatoes, talk about traditions your neighbors, ancestors and even other cultures might practice. Lead the discussion towards where those particular traditions may have originated from, and then how your family might be able to try them out.
Change where you eat
Moroccan and Japanese cultures practice eating on pillows on the floor, which may be something your family would get a kick out of. You could practice eating in the formal dining area one time per week or even an "al fresco" dining experience to usher in a new season.
Give thanks differently
Many families already practice some sort of thankful prayer or meditation before starting to eat, but consider incorporating a verse or two from another tradition each Tuesday, for example. You might even want to try a different language!
Spice things up
The easiest way to incorporate the traditions of others is in what you actually eat. Pay homage to your German ancestors by cooking up some sausage and sauerkraut, fiesta like your Mexican aunt did with taco night, or keep it easy and use the neighbor's idea of breakfast for dinner at least once a week.
Make a tradition of who cooks the meal
Beyond lessening the burden off the super moms, switching or making a tradition of who actually cooks the meals can be a great way to celebrate birthdays, school accomplishments or just a normal day of the week. For example, have dad cook the family breakfast on Sundays, or make Friday nights the day that others cook for you by going out to a restaurant.
Creating memories through family traditions doesn't have to be complicated, but they do focus on and celebrate your family.
More ways to create memories