Pregnancy
Dental Care
Pregnant women make a point to see their obstetrician on a regular basis, but did you know you should also set aside time to see your dentist? Find out surprising facts related to pregnancy and oral health, including dental changes that occur with pregnancy and how your dental health affects your growing baby.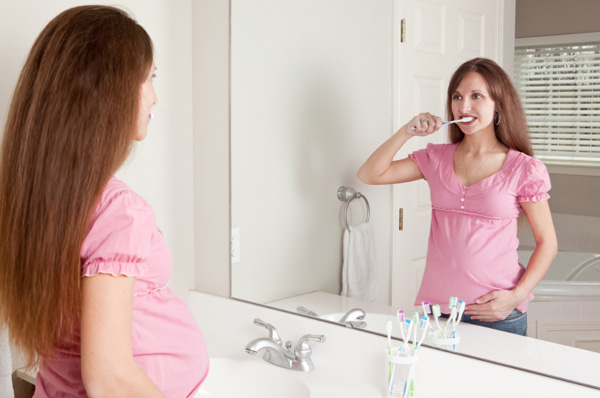 You know you are supposed to brush and floss on a regular basis, but did you know that your oral health can actually affect your growing baby? Researchers from Case Western University found that pregnant woman with poor dental hygiene had bacteria in their mouth that could travel though their blood stream and affect their pregnancy, causing preterm births and even stillbirths.
How often should you see your dentist?
Dr Shehzad Sheikh of Dominion Dental Care recommends that women visit their dentist in the second trimester for an oral hygiene check-up and professional dental cleaning. Instead of your normal 6 month check-up, you may want to bump it up to every couple of months.
"If you have a toothache, bleeding of the gums or pus around your tooth, schedule a visit with your dentist for a check-up," says Dr Sheikh, who was recently featured in First for Woman magazine. "These symptoms may be signs of an oral infection which, if untreated, could spread throughout your body during pregnancy. Infections of the mouth or teeth during pregnancy increase the risk for complications."
Common dental conditions during pregnancy
Thanks to pregnancy hormones, you are susceptible to a variety of dental conditions you need to be aware of.
"Gum infections are the most common form of infection during pregnancy," says Dr Sheikh. "Less common infections include abscesses inside or at the end of the root of a tooth. Such abscesses may require a root canal."
Pregnancy gingivitis is a common condition for pregnant moms who will notice symptoms that include red, swollen or tender gums, sensation of loose teeth, receding gums and bad breath. "[Pregnancy gingivitis] is caused as a result of bacteria becoming trapped in between your teeth," says Dr Sheikh, who said this can be managed if diagnosed early enough.
You may have heard the old wives' tale that you lose a tooth for each baby? If gingivitis is untreated, it can turn into pregnancy periodontal disease which can cause tooth loss, as well as pre-term labor and low birth weight in babies, warns Dr Sheikh.
Dental treatments to avoid during pregnancy
Even though X-rays produce a small amount of radiation, Dr Sheikh says that they should be avoided until after pregnancy. Any dental or cosmetic procedures that require you to sit for a long period of time should also be put off until after pregnancy.
"If you sit for long periods in the dental chair, you put increased pressure on the major blood vessel that supplies blood to your lower extremities which can make you feel faint. Consult with your dentist and medical doctor to determine procedures that are deemed safe for you and your unborn child," he says.
Dental home care while pregnant
Bump up your dental care to three times a day to keep bacteria at bay and consider switching to baking soda (unless you have high blood pressure) if your regular toothpaste makes your stomach turn, suggests Dr Sheikh.
"Morning sickness presents its own own set of dental problems due to the acid that can build up on your teeth. You should be VERY sure to rinse out your mouth with water, this stops the acid from building up on your teeth," says dentist Dr Michael Apa, DDS.
More dental health tips