Natural Cures
For Mastitis
Do you get repeated clogs and blocked ducts when breastfeeding? Has that ever made you want to give up and switch to formula? There are natural solutions and effective methods of treatment for breast infections. Read on for natural tips on how to heal from mastitis.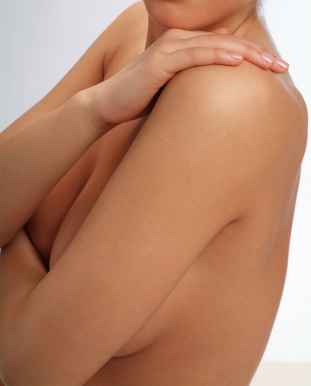 Breastfeeding challenges are normal
When I first started breastfeeding, I was convinced that it was going to be a simple and natural experience. Why wouldn't it be? I had taken the classes. I had read all the books. But it turns out that attempting to nurse a floppy, cross-eyed infant has very little in common with air-nursing the plastic Cabbage Patch Kids we used in lactation class.
In our society, where only 33 percent of women are still exclusively breastfeeding past three months of age, information about how to overcome breastfeeding challenges is not common knowledge. This is why it is important for every mom who is interested in exclusive breastfeeding to enlist the help of an International Board Certified Lactation Consultant (IBCLC) when problems arise.
What is mastitis?
Mastitis is inflammation of the breast tissue. This usually happens when a milk duct gets clogged and does not unclog itself naturally during regular feedings. The breast may become swollen, red, tender and even hard in the area of the infection. You may feel sick and feverish, as if you have the flu.
Natural solutions
Mastitis can be extremely painful and you may feel like you don't want to nurse, but nursing is actually the best thing you can do to promote healing. The objective in beating mastitis is to get the clog and accompanying infection to release and subside. Before you jump to using antibiotics, there are plenty of natural solutions that may be even more effective than prescription medication.
Get plenty of rest
Clogged ducts and breast infections tend to occur when the immune system is compromised and when you are feeling run down. Of course, with an infant in the house, it is not always easy to get adequate rest. This is a good time to look at your priorities and cross a few big items off the list. Feeding and supervising your other children? Important. Planning a PTA potluck and making homemade birth announcements? Not so much.
If at all possible, this is also a good time to call in the help of your support team, whoever that might be. Don't be shy. When they ask what you need, tell them the truth. Please clean my toilets, fold my laundry and watch my children while I take a nap. Thank you very much.
Heat and massage
Warmth can be of great assistance in getting the blocked duct to unclog. Try taking a warm shower and massaging the affected area. Use your fingers to gently work out the clog, beginning at the outside of the breast and moving inwards in the direction of the nipple.
Obviously, if you have young children in the house, you won't be able to spend all day in the shower massaging your breasts. Another effective method to keep the breast warm is to use a rice sock. Simply heat up a sock filled with uncooked rice in your microwave for a couple of minutes. Then place the rice sock directly inside your bra. It will retain heat for almost a full hour.
Breastfeed often
Your breast may be feeling tender, even painful, but it is very important that you continue to nurse regularly. Do not favor the affected breast by nursing less. Your baby has a powerful suck that has the potential to release the clog. Though this may take some gymnastic efforts, if at all possible, position the baby's chin in the area of the clog. This will help the region of the clog get the best suction possible.
Use natural remedies
Raw garlic, tincture of echinacea, cabbage leaves, vitamin C, lecithin and homeopathic phytolacca are just a few of the natural remedies that can be very effective in helping your body to overcome issues with plugged ducts and mastitis. Consult with your IBCLC for a more specific treatment plan tailored to your own situation.
Get more breastfeeding help