Indoor Exercises
For Kids
Does the weather have your kids cooped up inside? There are still plenty of ways for kids to get their daily dose of activity indoors. This article features tips about exercise for children from a celebrity trainer.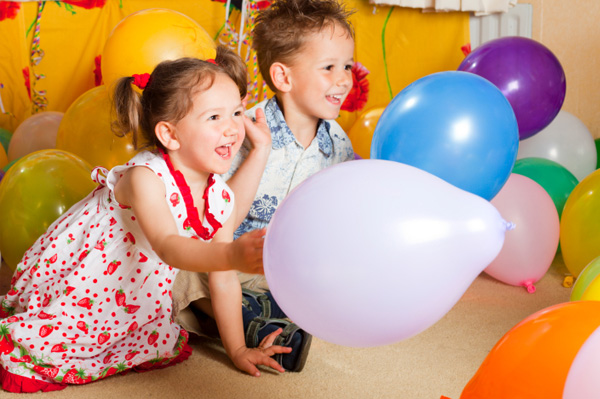 Bad weather is no excuse to veg out rather than work out. Encourage your kids to stay active with the following exercise games and tips, even if they're stuck in the house.
5 exercise games for kids
There are a variety of simple ways to get your kids moving in the house. Consider the following fun suggestions from Kathy Kaehler, celebrity trainer and USANA spokesperson.
Inflate their energy. Leftover balloons from a birthday party? Inflate one for each child that's old enough to play with balloons and challenge them to keep their balloon up in the air. Extra cheers to the kids who can bend and stretch in creative ways to keep that balloon afloat.
Chart goals. Create a family fitness chart with things like jumping jacks, up and down stairs, hop on one foot and more favorite exercises. Have kids check off the activities or mark them with stickers as they complete the moves throughout the day.
Put on a performance. Get out the movie camera and have your children film a workout video of each other doing sit-ups, pushups, running in place and so on. They'll have a blast and won't even know they're working out.
Be video-game friendly. Not all video games are about becoming a couch potato. The Wii Fit and many others now have workout-themed games. Encourage your kids to get physical by skiing, dancing, balancing and more.
Transform your home into a gym. Create a circuit gym in your living room using things like an ab crunch machine, mini trampoline or hula hoops. You can also create stations with no "equipment" but with instructions to jump, twist, march in place and so on. Have each child do each activity for one minute and then move on. Even mom or dad can get in a quick workout with the indoor fitness circuit.
How to encourage kids' fitness
Kids learn by example, so if you're sitting on the couch or moping about the rain, they'll follow suit. "The best way to encourage exercise for kids is to have them see you working out and ask them to join you," says Kaehler. This can be as simple as going for a walk together after dinner, heading out on a bike ride or doing a workout DVD together.
And don't underestimate your child's competitive spirit. "Set up races and events where you can time them for speed and how many repetitions they can do in one minute," suggests Kaehler. "You'll be amazed how excited they get about competing."
That doesn't mean you can't have days of rest -- everyone needs that, even professional athletes. But it's all about balance. "Teaching kids the importance of taking care of your body early is critical. Make it a compromise -- a little bit of vegging out balanced with a little bit of physical fitness," says Kaehler.
More about kids and fitness
More From SheKnows Explorer