Get Crafty!
Your kids will be inspired by the beautiful colors of fall to create amazing autumn crafts. Here are three simple fall crafts that even young kids can make!
(page 2 of 3)
"Stained Glass" leaf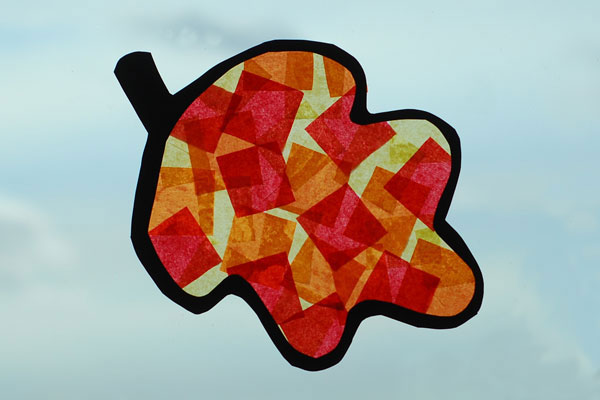 Mimic the look of stained glass using tissue paper in pretty fall colors.
What you'll need:
construction paper
wax paper
tissue paper in fall colors
scissors
glue
paint brush
Instructions
Create a leaf-shaped opening by cutting out a leaf shape from the center of a piece of construction paper.
Cut a piece of wax paper large enough to cover the leaf-shaped opening. Glue the wax paper to the construction paper to secure it in place.
Cut assorted colors of tissue paper into 1" squares.
Use your paint brush to cover the back side of the wax paper with glue. Lay the tissue paper squares overlapping each other, on top of the glue.
Allow to dry, then cut around the edge of the leaf shape about 1/2" from the center opening to remove the excess paper.
Hang the leaf in the window to let the light shine through.
Up next: Coffee filter sunflowers >>