Warm And Toasty
Jackets For Kids
Looking for the perfect coats for your kids for this winter? We have something for every budget -- cute and sure to keep your children warm all winter. Check out our ten favorite winter coats.
In case the cool temperatures didn't clue you in yet, winter is on its way, and that means it's time to start thinking about buying winter coats for kids. Whether you are in the market for girls winter coats or boys winter coats, these 10 picks are perfect for your kids.
So, what should you look for in kids winter coats? Professional wardrobe stylist Victoria Dessoff Gloster of Urban Darling says to look for kids winter jackets that have enough room for kids to move about freely in them. "To do that, I look for coats that are made the way adult ski-wear is made. They are lightweight, which is critical, otherwise kids will resist wearing them, neat looking -- and stay that way -- are almost indestructible, and really keep the elements out, especially if hoods are attached," says Gloster.
What about wool? Gloster says it's not the best choice for everyday wear. "Wool can be both heavy and stiff for little ones who like -- and need -- to run around, and it will absorb rather than deflect moisture, so not a good exterior choice," says Gloster.
So, what are some good choices?
The North Face Denali Jacket
The fleece Denali jacket from North Face is thin and moveable. Iin fact, kids often wear them indoors and out. But in chilly temperatures -- (not super cold though -- a lightweight option is perfect. Plus, it fits easily into lockers. Available for both boys and girls for around $99.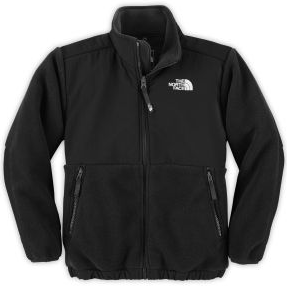 Old Navy 3-in-1 Printed Jackets
Funky patterns and a lot of flexibility come with these coats. An inner fleece jacket zips into the insulated shell. Available for both boys and girls for $59.50.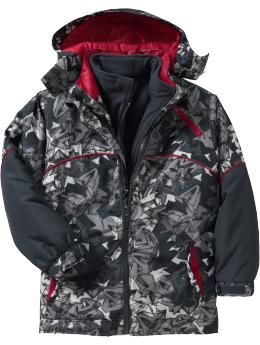 Lands' End Squall Parka
This simple, classic winter coat has clean lines and is designed to keep kids warm at temperatures below zero. It's also water-resistant and wind-proof, and has special sleeves that expand. Available for both girls and boys for $69.50.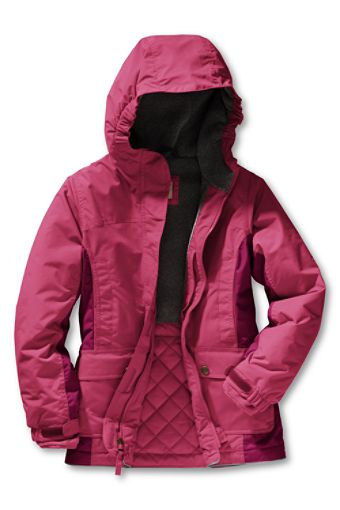 L.L. Bean Katahdin Parka
Nipped in at the waist and rated for temperatures as low as 10 below, this warm parka is perfect for the chilliest of winter temperatures. Available for girls, boys and infant/toddler sizes for $69.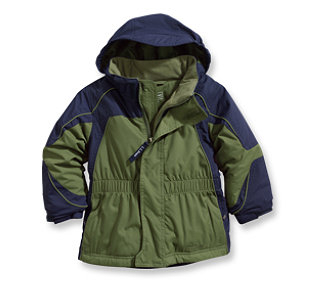 Children's Place 3-in-1 Jacket
The outer layer is water-resistant nylon twill. The inner layer is fleece. It's perfect for fall, winter and spring because the components can be worn on their own, too. Available for boys and girls for $41.50.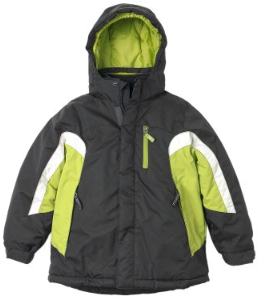 Keep reading for five more great coats