The Family Bed: Not Just For Hippies
New research in the age-old debate between co-sleeping and cry-it-out demonstrates that leaving babies to cry it out is not only emotionally disruptive, but can actually damage their growing brains. When babies are left unattended to cry for long periods of time, the stress hormone cortisol builds up in their brains and becomes toxic.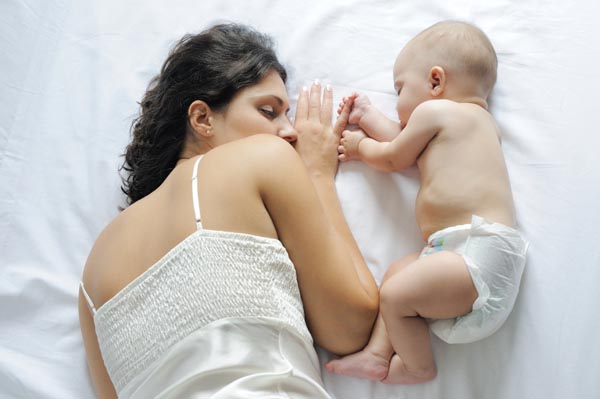 As a member of the family bed tribe, I was intrigued to discover pertinent research that actually supports co-sleeping in a culture that is primarily against it -- despite the fact that 25 percent of Americans still admit to bed-sharing with their children occasionally. I myself never intended to become a co-sleeping parent. But after my baby arrived, I realized that I wanted to be close to him at night, just as much as I wanted to be close to him during the day.
It is, in fact, a natural instinct for mothers and babies to want to be in close proximity to one another. The concept of infants sleeping away from their parents is relatively new in human history. And as long as you are following certain precautions, the family bed can actually be just as safe, or safer, than crib-sleeping. Below are some helpful tips on how to co-sleep safely.
1
Never sleep with your baby on a soft surface
This means no sleeping with your baby on couches, recliners or waterbeds. Do not use soft bedding or pillows. Suffocation is one of the most serious dangers to sleeping infants, whether they are sleeping in bed with their parents or even in their own cribs.
2
No toddlers, drinking or smoking
The best place for baby to sleep is next to a responsible, non-smoking adult, preferably his mother. You might want to invest in a co-sleeper, which has three sides and attaches to your bed. The baby has his own safe space that adjoins where his mother sleeps so she can comfortably reach and feed him all night long.
Enjoy being emotionally and physically close to your baby
One of the best advantages of sleeping with your baby is being able to respond to all his nighttime needs. Not only is this now proven to aid both your baby's emotional and physical development, but you will also be able to anticipate any nighttime illnesses or problems such as fevers, cough, vomiting or breathing difficulties.
Many studies now show that people who co-slept as children exhibit less vulnerability to depression and other psychological illnesses, as well as report higher levels of overall satisfaction with their lives. As long as you follow the suggestions above, co-sleeping can be one of the safest and most enjoyable sleep arrangements around.
More on co-sleeping
4 infant sleeping myths debunked
SheKnows message boards: co-sleeping
Transition child from the family bed