Would You Breastfeed Your
4 Year Old?
No one will deny that breastfeeding is the best way to feed your infant for the first year of life. The AAP recommends "exclusive breastfeeding for approximately the first six months and support for breastfeeding for the first year and beyond as long as mutually desired by mother and child."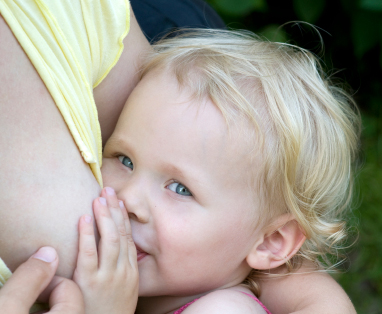 But in this country, where only 33 percent of mothers are still exclusively breastfeeding their infants at three months of age, people squirm at the idea of breastfeeding a toddler or a young child. It can be perceived as unnecessary at best, obscene at worst.
How long is too long? And are there any real benefits of nursing beyond baby's first year? Before I became a mother, I planned to breastfeed, but I also felt that moms who nursed babies who could walk and talk were strange, even perverse. What would compel them to want to nurse a child who could make his own peanut butter and jelly sandwiches?
As time went on and my baby hit the age where I had once assumed I would stop, I began to feel like one year was an arbitrary number and that my baby was still getting as much out of nursing now as he did three months before. I began to look into the pros and cons of extended breastfeeding and was surprised to find that there are many benefits to nursing a child beyond infancy.
Health benefits
Of course, nursing has extraordinary health benefits including viral immunities, less incidence of childhood disease, improved dental health, fewer allergies and increased brain development— to name just a few. These benefits do not stop when a baby reaches one year old. In fact, the American Academy of Family Physicians notes that children weaned before two years of age are at increased risk of illness, as the human immune system is only 60 percent developed by age one.
Psychological benefits
Many studies have shown that children who nurse beyond two years benefit from the close mother-child bond and are more socially well-adjusted. They are less likely to thumb-suck or use other transitional objects. Although the average age for weaning in the United States is earlier than one year old, the average age for weaning worldwide is beyond four years old.
Independence
Contrary to popular belief, nursing children to an older age does not make them needy and dependent but rather increases their confidence and ability to achieve independence naturally. When children are allowed to pace themselves, they are more secure in their independence than children who are forced into separation before they are emotionally ready. Elizabeth N. Baldwin, attorney and breastfeeding expert, explains: "Meeting a child's dependency needs is the key to helping that child achieve independence. And children outgrow these needs according to their own unique timetable."
Breastfeeding Tips, support & Resources