Watch And Learn
In a matter of hours, your preschooler has embarked on a trip to outer space and joined friends on a thrilling adventure - all from the comfort of home. Educational TV shows can expose preschoolers to new concepts, ideas and images, opening up their minds and sparking their creativity. Read on to discover how educational TV will benefit your youngster. Plus, don't miss our preschool TV show guide!
(page 3 of 3)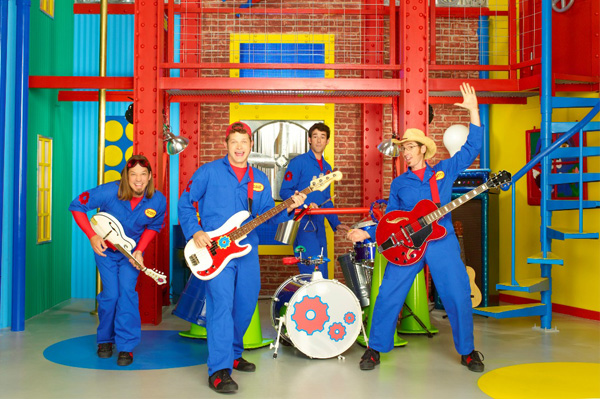 Imagination Movers
It's never too early to learn how to solve a problem -- especially when it's fun! The Imagination Movers is a live-action series featuring four friends (known as the Movers) who dreamed up the show in 2003. If a problem needs solving, the Movers meet-up at their idea warehouse and brainstorm ways to solve it. You and your preschooler will love the cheerful music and age-appropriate comedy as the Movers tackle their latest challenge.
Imagination Movers reinforces the importance of brainstorming, problem solving, teamwork and a positive attitude -- all while having fun and using your imagination. Find this series on Playhouse Disney.
In the Night Garden
If your child loves storytelling and fairy tales, In the Night Garden is the right choice for them. It's a live-action, modern interpretation of classic nursery rhyme picture books. Each episode begins with a child in bed while the narrator introduces the episode. The episodes end with one character receiving a bedtime story. The characters also love to sing and dance together. Lullaby your preschooler to sleep with this relaxing, magical show.
In the Night Garden reinforces the importance of respect between parents and children, building positive relationships and using creativity and imagination. Find this show on The Hub.
Sesame Street
Sesame Street has entertained and educated generations of preschoolers since 1969. The series continues teaches a variety of subjects, from numbers to cultures to healthy eating. The goal of the show is to encourage children to use their imaginations, build social skills and respect peoples' differences. Also, with appearances from celebrity guests like Jennifer Garner, Amy Poehler and Ryan Reynolds, Sesame Street can be fun for parents to watch, too.
Sesame Street uses well-known characters and actors to teach children about health and wellness, respect and understanding, literacy and numeracy and emotional well-being. Find this popular, long-running series on PBS Kids.
Sid the Science Kid
Preschoolers are inquisitive and eager to learn. Quench their thirst for knowledge about the world around them by tuning in to Jim Henson's Sid the Science Kid. This computer-generated series does a good job of introducing basic science content to preschoolers through easy-to-understand stories. Your little one will enjoy watching the main character, Sid, as he tackles scientific questions with the help of his teacher, friends and family.
Sid the Science Kid explores a difference scientific theme or concept each week, ranging from the human body to the weather. The Friday shows review and reinforce the theme of the week for deeper understanding. Preschoolers will benefit from lessons around problem solving, researching and using teamwork. Find this show on PBS Kids.
Super Why
Take your preschooler on a trip to Storybook Village by tuning in to Super Why. Meet four magical friends, known as the Super Readers, including Super Why himself, Princess Presto, Alpha Pig and Wonder Red. This fantastical foursome uses fairy tales to solve problems as a team. Your preschooler will love helping the Super Readers while playing word games and responding to their educational, but fun, questions.
Super Why encourages early reading skills through interactive lessons about phonics, rhyming, word usage, pronunciation, writing, spelling and the alphabet. Find this show on PBS Kids.
The WotWots
Meet The WotWots: They're puppet-like alien siblings (twins!) from outer space, named SpottyWot and DottyWot. Your little learner will love getting to know them as they visit Earth, scooting around Jetson-style in their hover-chairs while discovering exotic creatures at various zoos. Watch the computer-animated pair over live-action footage. Talk about cool!
The WotWots encourage discovering new animals, fixing problems, drawing and exploring. The narrator of the series creates a dialogue with SpottyWot and DottyWot, translating their speech and asking them questions to help preschoolers understand. Expect a silly banter between the twins as they explore the planet together. Find this show on The Hub.
Tell us: What's your preschooler's favorite TV show? Share in the comments below!
More tips for parents of preschoolers