Watch And Learn
In a matter of hours, your preschooler has embarked on a trip to outer space and joined friends on a thrilling adventure - all from the comfort of home. Educational TV shows can expose preschoolers to new concepts, ideas and images, opening up their minds and sparking their creativity. Read on to discover how educational TV will benefit your youngster. Plus, don't miss our preschool TV show guide!
(page 2 of 3)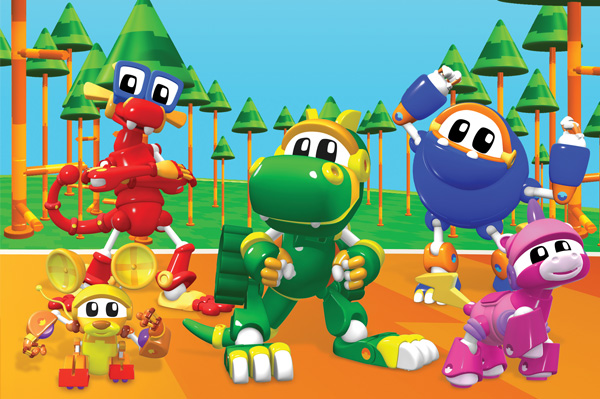 Preschool TV show guide
Following are 12 shows that offer educational fun for your preschooler. Read on to find out what these age-appropriate shows will teach your little learner!
The Adventures of Chuck and Friends
If your preschooler is in the mood for a rugged, high-octane ride, get their seat belt fastened for The Adventures of Chuck and Friends. Chuck and his fellow truck friends are constantly on-the-go, learning about the importance of dreaming big, using their imagination and having fun with friends.
The Adventures of Chuck and Friends encourages friendship, hard work, perseverance, creativity and humor. At the end of each adventure-filled episode, expect a valuable lesson learned. Find this show on The Hub.
Animal Mechanicals
Think of them as Transformers for a new generation -- but much cuter! In the world of the Animal Mechanicals, everything changes shape and problems are always popping up. Watch these animals transform into super-powered machines on a mission. Follow their amazing adventures as they save the day everywhere they go.
Animal Mechanicals reinforces the importance of problem solving, teamwork and selflessness. The show also teaches youngsters about shapes and animals. Find Animal Mechanicals on The Hub.
The Backyardigans
If you're looking for a way to teach your preschooler to appreciate music, turn on The Backyardigans. The animated series follows the adventures of five animal friends (including a penguin and a moose) who use their imaginations to transform their backyard into the backdrop for amazing adventures. You and your kids will love watching the professionally-choreographed dance numbers set to original music.
The Backyardigans offers an interactive viewing experience encouraging singing, dancing, creativity and an appreciation for creative arts. Find this show on Nick Jr.
Between the Lions
Your preschooler may not be ready to read yet, but Between the Lions is the perfect show to help them gain an early interest in words and reading. This series makes reading fun with the help of a family of lions who run a library filled with magical books. Watch as letters, words and book characters come alive through puppetry, music, animation and live action.
Each episode of Between the Lions reinforces the importance of literacy by teaching early literacy skills such as phonics, vocabulary, fluency and text comprehension. Find this show on PBS Kids.
Caillou
The animated children's TV show Caillou brings to life the popular book series of the same name. Meet Caillou -- he's a relatable four-year-old experiencing many of life's firsts with the help and support of his family. He may not always make the right choices in his daily interactions and activities, but he learns from his mistakes and your preschooler will, too.
Caillou teaches preschoolers about social and emotional issues like facing fears, learning responsibility, growing up and getting along with siblings. Find this show on PBS Kids.
Dora the Explorer
Help Dora and friends complete educational adventures! Your little one will have a blast responding to seven-year-old Dora's questions about shapes, colors and numbers as she explores riddles and puzzles. The series also encourages children to learn Spanish words, which Dora interjects every so often. Your preschooler can repeat the words and sing along to songs incorporating them.
Dora the Explorer is an animated adventure encouraging interactive learning about languages, colors, numbers and shapes. Find this educational series on Nick and Nick Jr.
Up next: 6 More educational tv shows for your preschooler >>