Teens Who Text And Date
In a teen's tech-savvy world, texting is the medium of choice for asking someone out, flirting, communicating and breaking up. Are these informal, confusing messages ruining teens' abilities to hone their relationship skills for the future?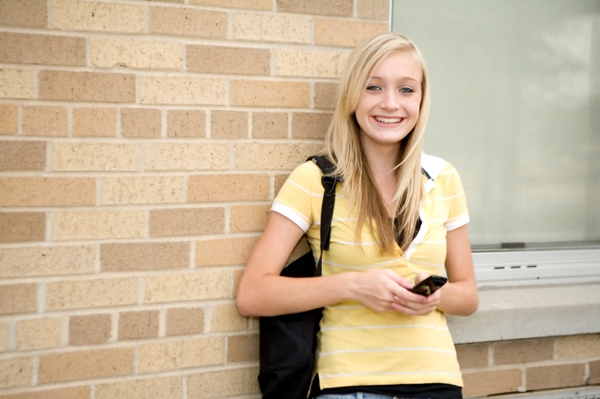 Cell phones and texting have changed the dating game, especially for teens. Brief text messages – almost always informal, sometimes cryptic – are leaving both sexes more confused than they already might be. Here's the scoop about what your teen is experiencing in this "new" dating world.
"Want 2 c a movie with me?"
A survey conducted by the texting app textPlus found that 65 percent of teens ages 13 to 17 say it's fine to ask someone out on a first date via text. About 29 percent have actually done the asking that way, while 43 percent say they've been asked out via text.
Asking someone out by text eases social pressure and minimizes vulnerability. "Teenagers hate to be put on the spot and feel more comfortable thinking about what they're going to say. Texting gives the shy and self-conscious a way to start conversations they might not have over the phone or face-to-face," says Drew Olanoff, director of community and "textpert" for textPlus. Not to mention, he adds, texting offers a desirable bonus for teens – privacy and the prevention of parental eavesdropping.
The 'Dear John' text message
Getting turned down for a date via text might soften the blow, but 24 percent of teens surveyed find it perfectly acceptable to break up with someone via text. Is this an act of cowardice?
Maybe not. A text allows a teen to send a break-up message that might otherwise have never been spoken in person. It hurts to read, "We're done," but that's better than being ignored or uncertain about whether a relationship is really over. Olanoff says, "There are right and wrong ways to use texting. Don't end a year-long relationship with 'c u l8r' but do use texts as a way to check up on someone post-breakup ('hope ur doin ok')."
Helping teens communicate via text
"There's a misperception that texting is a bad thing when it comes to relationships. What we're seeing is the opposite," says Olanoff. "Texting is a means of facilitating meet-ups and helping young people get together to go out."
The courting habits of centuries ago evolved; dating rules are shifting again with texting. So it's important to at least help your kids communicate properly. Olanoff suggests the following tips for parents to impart to their texting teens:
Make sure this isn't the first interaction you're having with your potential date.
Use proper grammar/spelling; no shorthand or abbreviated words.
Be the decision-maker. Don't ask the recipient where he/she wants to go.
Personalize the text so he/she doesn't think it's a generic text sent to a bunch of people.
"Teenagers get their hearts broken, get dumped, experience unrequited crushes. It's hard to be 16 – that's never going to change," says Olanoff. "Just because it's happening over text message doesn't make it any different."
Realize, too, that the relationships your children go on to have are directly influenced by the relationships you have yourself. High school teacher Debbie Grimm says, "What I see that affects students more are the relationships they witness at home – divorced or divorcing parents, cheating parents, missing parents. They seem to accept their own behavior but have trouble grasping, understanding and dealing with the behavior of adults near them."
Olanoff adds, "The best advice for parents is simply to talk to their kids and create open lines of communication about relationships."
More about teens in the technology age