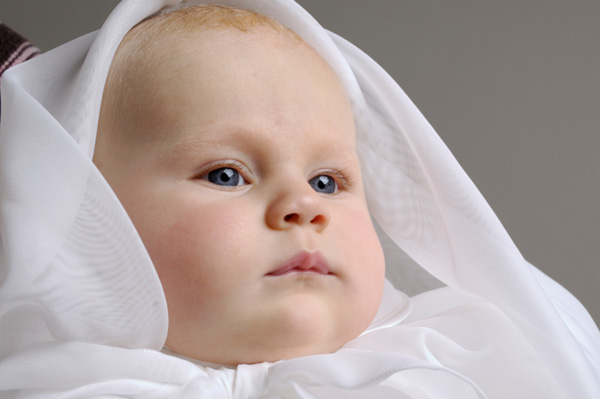 Spiritual girl baby names have taken off as a popular name trend. In today's fast-paced world, many parents are looking to reconnect with their faith and their basic values — starting with a spiritual baby name.
Faithful girl names
Check out our list of spiritual names, including biblical names, virtue names and celebrity spiritual names that are perfect for your baby girl.
Whether you are Christian, Jewish, Muslim or practice another faith, spiritual baby names can be as specific (biblical names or Hebrew names) or as general (virtue names) as you'd like. Some parents let the meaning of the name guide their choice, while others choose baby names based on a saint or person in the Bible or other sacred text.
Biblical baby names
Biblical girl names were way up in the charts on the Social Security Administration's Top 100 Baby Names list. The name Nevaeh, which is Heaven spelled backwards, is moving up the list and is currently at #35! Here are some are biblical girl name ideas to consider:
Celebrity spiritual girl names
Trendsetting celebrities have been naming their celebu-tots spiritual names to honor their faith — and because they like unique names. Some celebrities (Madonna comes to mind) even have their own spiritual names. Here are some of our top picks:
Aisha: Name of Stevie Wonder's daughter. Aisha was the Prophet Muhammad's last wife.
Lourdes: Madonna named her daughter after the place where a young shepherdess had a vision of Mary.
Assisi: Daughter of Mick Jagger of the Rolling Stones. Named after the birthplace of St. Francis, patron saint of animals.
Faith: Singer Faith Hill has this beautiful virtue name.
Sistine: Sylvester Stallone's daughter is named after the famous chapel whose ceiling was painted by Michelangelo.
Uma: Actress Uma Thurman is named after a Hindu goddess.
Seraphina: Actress Jennifer Garner and her husband Ben Affleck named their daughter this Hebrew name.
Heavenly Joy: Daughter of music producer Rodney "Darkchild" Jerkins and wife Joy Enriquez.
Helena Grace: Daughter of Gossip Girl's Kelly Rutherford and Daniel Giersch.
Heaven Rain: Brooke Burke named her daughter this spiritual name.
Virtue baby names
Virtue baby names describe a particular spiritual quality. These names were very popular in the 1600s among Puritans, who commonly named their children Deliverance and Repentance. For more mainstream yet unique and spiritual baby name options, check out this list of virtue girl names:
Baby names that mean 'spiritual'
Are you looking for a literal translation of a spiritual name? Chinmayi is a baby girl name that means "spiritual joy" and "extreme happiness" in Sanskrit, an ancient language of India.
We also love these baby names with spiritual meanings:
More baby name ideas
Baby girl names with great meanings
Miracle baby names
50 Pretty baby girl names