What New Moms Need
As a new mom, you might have a hard time knowing what you really need for your baby. After all, the market is flooded with gear, gadgets and toys aimed at new moms and their babies. We're here to help you separate needs from wants and get down to the essentials. Check out our top 20 list of baby necessities for new moms.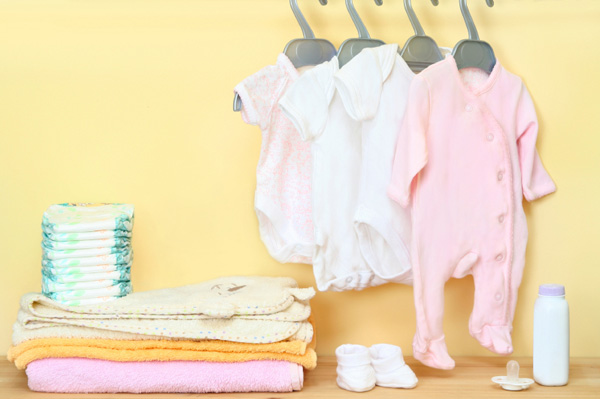 1
A good stash of diapers
Whether you are planning on using disposable or cloth diapers, you need a good stash tucked away. Running out of diapers can be disastrous, particularly at 3 a.m. Do yourself a favorite and stock up on diapers in various sizes.
The top clothing item for a newborn is the bodysuit (onesie) — a shirt that snaps together between the legs. It stays in place, it's comfy and it keeps a diaper on. Keep loads of them around. Go for Carter's bodysuits (Carter's, $26), which are thick and cozy.
3
A swaddle blanket (actually, two)
Swaddling mimics what babies feel like in the womb, so it can be super comforting, especially to newborns. Be sure to have two swaddle blankets, so that when one is in the wash, you have another ready to go. Check out the Aden + Anais swaddle blankets (aden + anais, $50), which are generously sized — perfect for easy swaddling.
Like diapers, you may choose disposable or reusable wipes. Whatever you choose, be sure to have plenty on hand. You will use them dozens of times a day for wiping hands, changing diapers and more.
5
A changing pad for outings
Sure, many public bathrooms have changing stations, but do you really want your baby touching that surface — which could very well be dirty? That's why you need a portable changing pad like the Pronto! Changing Station from Skip Hop (Skip Hop, $30). Wherever you are, you can change Baby without worrying about germs. And the Pronto! has room for extra diapers and wipes.
Face it, diapers and wipes aren't all you need. You'll have to tote bottles, blankets, outfit changes and toys along too. A fabulous bag, such as this one from the Petunia Pickle Bottom (Petunia Pickle Bottom, $180) line, will keep you organized and ready for anything that being on the go brings.
7
A fabulous (comfy) carrier
Much like swaddling, a good baby carrier keeps Baby tucked in as if in the womb. Furthermore, it keeps your baby close to your heart, which can be so comforting for her. Check out the popular Maya Wrap (Maya Wrap, $75) which you can wear in a variety of ways.
Top baby carriers for you and your baby >>
All strollers are not created equal. Some have ultra-smooth handling but are large when folded. Some are fabulously compact but sheer drudgery to push. Go to the store and test several to see how they work for you. And be sure to try folding them — both to see if the stroller will fit in your car and to see if it's easy enough to put away.
Check out these top all-terrain strollers >>
When babies are ultra-small, getting away for even a simple bathroom break can be tough. A mobile can help. Not only can it lull Baby to sleep, but it also can buy you a few much needed minutes of quiet so you can use the facilities. The Sweet Island Dreams Mobile (Baby Earth, $45) is a very cute option.
Breastfeeding? You need nipple cream. Should your nipples get sore, cracked, chapped or any of the other possible results of breastfeeding, you will be thankful to have this. Try Lansinoh (Target, $11) brand.
Up next: More baby necessities for new moms >>